Richard Manson, Jr. grew up loving the sounds and smells of the ballpark. At a young age he was a tiny spectator at the grandest of stages – Yankee Stadium. It was there he looked on as "Big Cat" Mize, "Whitey" Ford, and some fresh faced kid from Oklahoma named Mickey took the field.
This early exposure to sports no doubt steered his choice later in life to become a basketball scout for Coach Bill Bertka. There he developed relationships with many collegiate and professional coaches and players.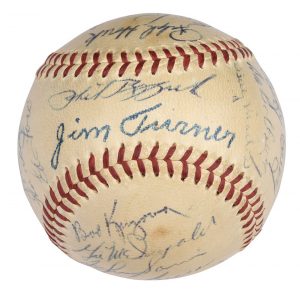 1953 New York Yankees Team Signed Baseball – Lot 625 / Estimate: $1,500 – $2,000
Mr. Manson has enjoyed all the hours in the bleachers as well as his encyclopedic knowledge that has come along with it. He saw many hopefully optimistic minor league players traverse their way through the International League hoping to one day make it to "the Show." Quite a few of them did, in fact. 
No matter which sport, Richard was a student of the game and he now wants to pass on some of his treasures collected along the way.
Click here to view the collection coming to auction on October 23, 2020