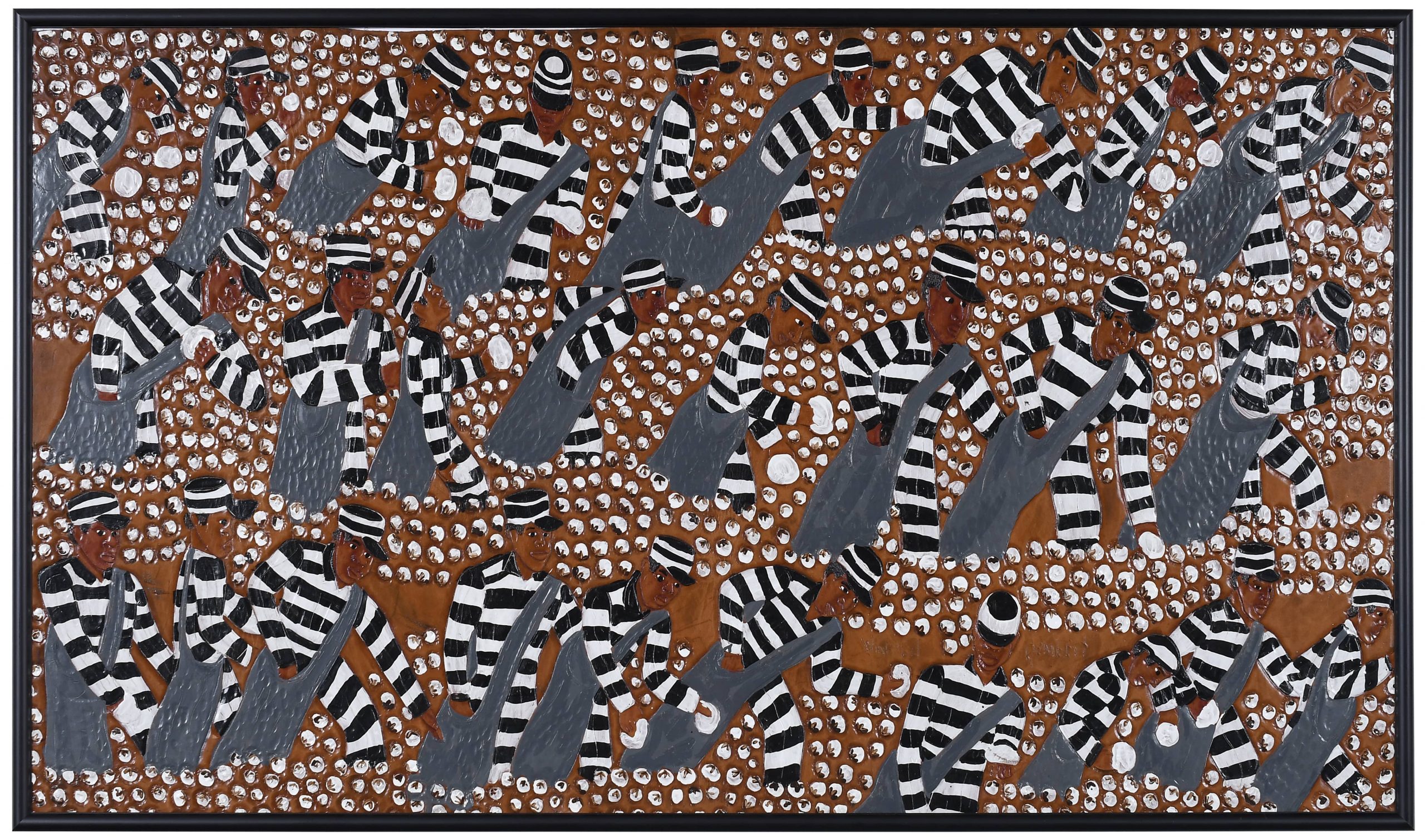 The Estate of Peter H. Tillou
Fri, Sep 30, 2022 09:00AM EDT
Estimate: $40,000 – $60,000
(American, 1945-2021)
Chain Gang Picking Cotton #4, 2007, inscribed bottom center "Winfred Rembert", dye on carved and tooled leather, 24-3/4 x 43 in.; metal frame 26 x 44-1/2 in.
Note: Born in rural Georgia, raised in a community tied to the cotton fields, Winfred Rembert survived a childhood of poverty in the segregated South of the 1940s. He would go on to be a nationally recognized artist, and his biography – Chasing Me to My Grave: An Artist?s Memoir of the Jim Crow South – was awarded the Pulitzer Prize in 2022.
It was not a well paved path. In 1966, after a demonstration in Americus, Georgia, Rembert was arrested and put in jail without being charged. A year later, he escaped but was caught and hung up by a group of deputy sheriffs. They stuck him with a knife but did not kill and burn him as he had anticipated. He spent the next seven years in a chain gang. Remarkably, he met his wife while building roads and bridges in rural Georgia as part of his prison sentence. While in prison, a man named TJ taught him how to carve wallets out of leather, a skill that he would use decades later in his embossed leather paintings.
After his release, Rembert and Patsy married and they moved to New York, then Connecticut, where he worked a variety of jobs. Not until in his 50s after a second round in prison, did he begin to draw and paint the scenes of his youth, carving the stories into tactile leather canvases.
In 2000, Rembert had a well publicized show at the Yale University Art Gallery. In 2002, he was introduced to Peter Tillou after speaking about his artwork at a school in Waterbury, Connecticut. A short time later they agreed to a working relationship that included numerous exhibitions and his 2010 ?coming out? show at Adelson Galleries in New York. Their relationship continued until Rembert?s death in 2021.
This work references the chain gang he worked on – one of a number of jobs he had during the 7 years he was incarcerated in Georgia. It also includes reference to the hot difficult work many of his neighbors did in the cotton fields. These fields represent the servitude imposed on many of the black workers of his town – unable to escape.
Exhibition History:
Adelson Gallery, New York, New York
Danforth Art Gallery, Framingham State University, Framingham, Massachusetts
Provenance: The Estate of Peter H. Tillou, Litchfield, Connecticut
Condition: some smudges, likely as made; frame with light wear