Very Rare and Important Pennsylvania Federal Polychromed Chest of Drawers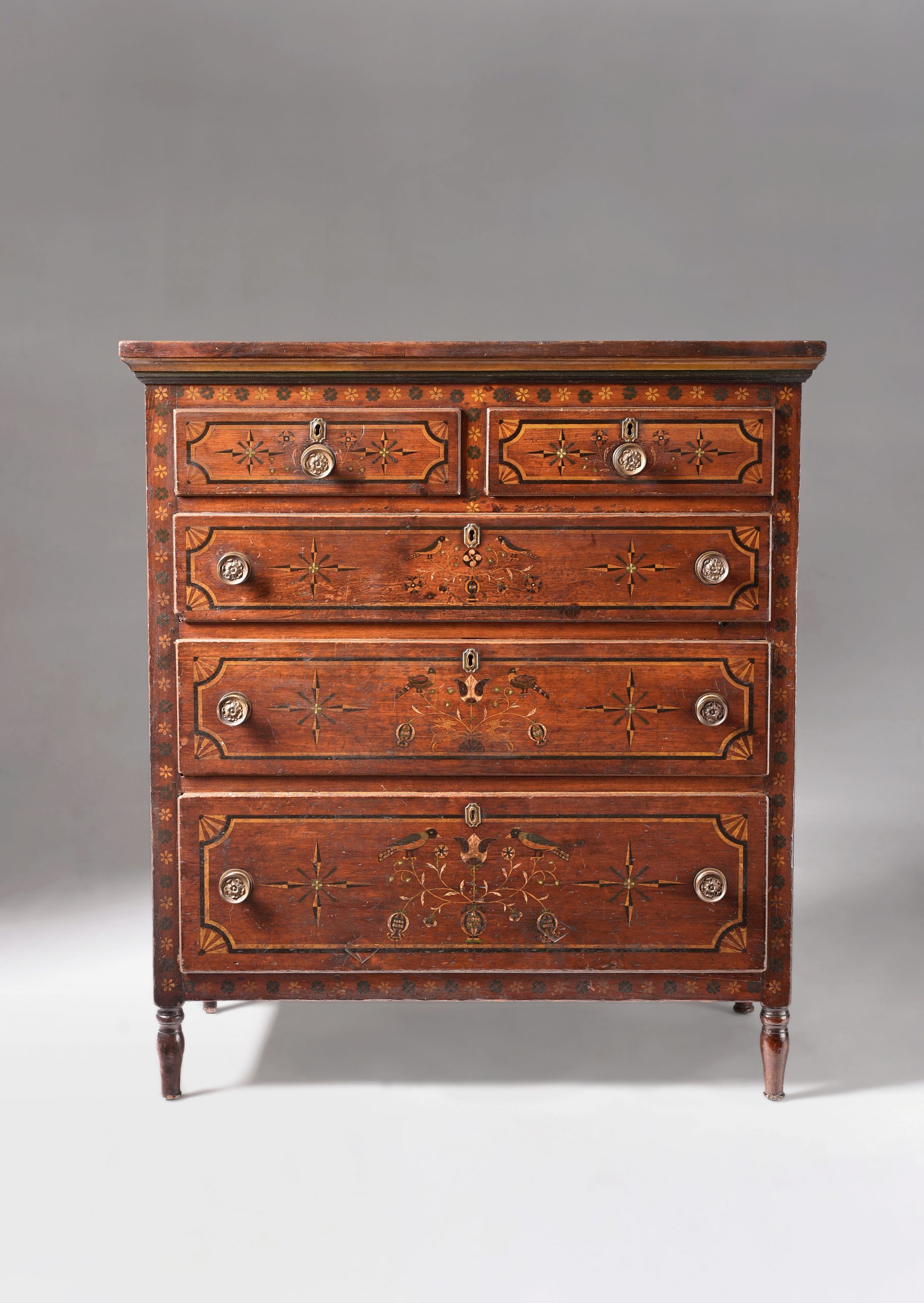 Collection of Jean and Jim Barrow
May 20, 2023 09:00 AM EDT Asheville, North Carolina
Estimate: $80,000 – $100,000
Description:
attributed to Mahantango Valley or Schwaben Creek, Pennsylvania, circa 1830, dovetailed and cut nail construction, white pine throughout, 48 x 42-1/2 x 22 in.
Note: In American Radiance: The Ralph Esmerian Gift to the American Folk Art Museum, curator Jack Lindsey notes this chest "is distinguished by the quality and pattern of its painted decoraiton, consisting of carefully rendered leaping stags, undulating flowering vines, birds, and stylized central tulips emanating from urns and compass stars on a salmon pink ground. Many of the painted decorated devices on the drawers, such as the quarter fans and painted stringing, may have been influenced by earlier patterns of the neoclassically inspired wooden inlay."
Literature:
Nutting, Wallace, Furniture Treasury, Framingham, Massachusetts: Old America, 1928, fig. 296;
Schaffner, Cynthia VA and Susan Klein, American Painted Furniture, 1790-1880, New York: Clarkson N. Pottery, 1997, pg. 143;
Stoudt, John Joseph, Pennsylvania Folk Art: An Interpretation, Allentown, Pennsylvania: Schleeter's, 1948, pg. 271;
Weiser, Frederick S. and Mary Hammond Sullivan, "Decorated Furniture of the Mahantongo Valley", The Magazine Antiques 103, no. 5 (May 1973), pg. 935;
American Radiance: The Ralph Esmerian Gift to the American Folk Art Museum, pg. 183, fig. 154
Note: 
This chest is referenced in Wendy Cooper and Lisa Minardi's Paint Pattern and People: Furniture of Southeastern Pennsylvania 1725-1850.  In their discussion of Mahantango examples, they note that some were painted with red iron oxide ground, and then decorated with black, chrome green, and chrome yellow. The example offered here is noted as "a superb example of this type". See page 96 and note 128 on page 213.  
Provenance:

A.H. Rice, Bethlehem, Pennsylvania;
George Horace Lorimer, Philadelphia, Pennsylvania;
Joe Kindig Jr., York, Pennsylvania;
Dr. and Mrs. Henry P. Deyerle, Harrisonburg, Virginia;
Sotheby's, New York, "The Collection of Dr. and Mrs. Henry P. Deyerle", May 26-27, 1995, lot 307;
Sotheby's, Important American Folk Art from the Collection of Ralph Esmerian, January 25, 2014, lot 549;
Collection of Jean and Jim Barrow
Condition:
very fine condition and retaining an old dry paint surface, appears to retain original brass hardware, fine condition and retaining an old dry paint surface, typical bumps and edge wear, some areas of possible paint retouch, typical chips and losses at small foot turnings, including one small loss at back, surface wear to top with some areas of distress or water damage