"Brunk Auctions has had a unique position in the marketplace selling historical portraits of Southern importance. We set three records for Charlestonians by Jeremiah Theus. In 2007, we sold a life portrait of John C. Calhoun for $200,000. I am very excited to say that we now have the honor of representing a descendant of Governor Samuel Johnston and Justice James Iredell in the sale of two rare and important North Carolina portrait miniatures. As a native of North Carolina, I celebrate the incredible accomplishments of both of these gentlemen, their significance to our state is immeasurable," shares Fine Art Specialist Laura Crockett.
Please see the two fine portrait miniatures and part of their stories below: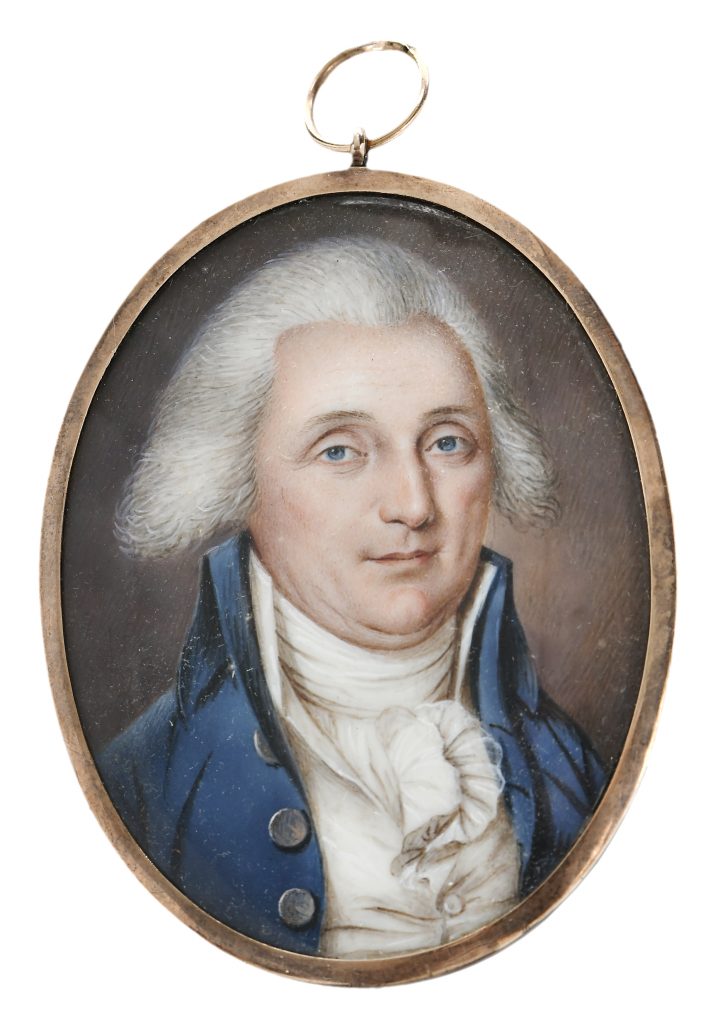 James Peale, Sr. Portrait Miniature
(Pennsylvania/Maryland, 1749-1831)
Governor Samuel Johnston (Scotland 1733-1816 North Carolina), 1793, completed at the time he was serving as a US Senator from North Carolina, signed "J.P. 1793", watercolor on ivory, 2-1/2 x 1-7/8 in. casework, tests 14kt plain bezel frame with cobalt glass surround and window with braided hair, 3 x 2 in.; with red leather case
Provenance: Governor Samuel Johnston, North Carolina; By descent in family
Estimate: $20,000 – $30,000
>>> Samuel Johnston was three years old when he came to America with his family and settled in Eastern North Carolina. He was the nephew of Gabriel Johnston who was the Colonial Governor from 1730 to 1752. After studying law in North Carolina, he was admitted to the bar in 1767 and established a legal practice in Edenton.
Johnston began his political career when he was appointed the Clerk of Court for Chowan County, and in 1759, he was elected to serve in the North Carolina General Assembly which was displaced in 1775 upon the start of the Revolution. Starting in 1774, he served as a delegate to the first four Provincial Congresses and presided over the third and fourth Congresses in 1775 and 1776. When he succeeded John Harvey upon his death as the moderator of the Provincial Council and then as President, he became the highest ranking politician in the state, thus putting him in the role of acting Governor upon the abdication of the Royal Governor, Josiah Martin (1737-1786).
North Carolina was the first state to declare independence in 1775, with her constitution one of the earliest to be formed. The early leadership of this notable patriot is to be credited in part.
In 1780, Johnston was elected as a member of the Continental Congress and presided over both conventions called to ratify the U.S. Constitution in 1788 and 1789. He was the duly elected Governor of North Carolina and served from 1787 to 1789.
A U.S. Senator from 1789 to 1793, he returned from Congress to hold his last political office as a North Carolina Superior Court judge, which he held until the age of seventy in 1803. On retirement he quoted a soldier saying, "Some time should be interposed between life and death." Governor Samuel Johnston passed away on August 17, 1806, and was buried at Hayes Plantation, near Edenton, North Carolina.
This portrait is thought to be the only known likeness of Samuel Johnston.
References: The National Cyclopaedia of American Biography.. New York: J.T. White, 1902, Vol. IV, pg. 420
National Governor's Association, 2015, [Governor Samuel Johnston], May 3,2019, https://classic.nga.org/cms/home/governors/past-governors-bios/page_north_carolina/col2-content/main-content-list/title_johnston_samuel.default.html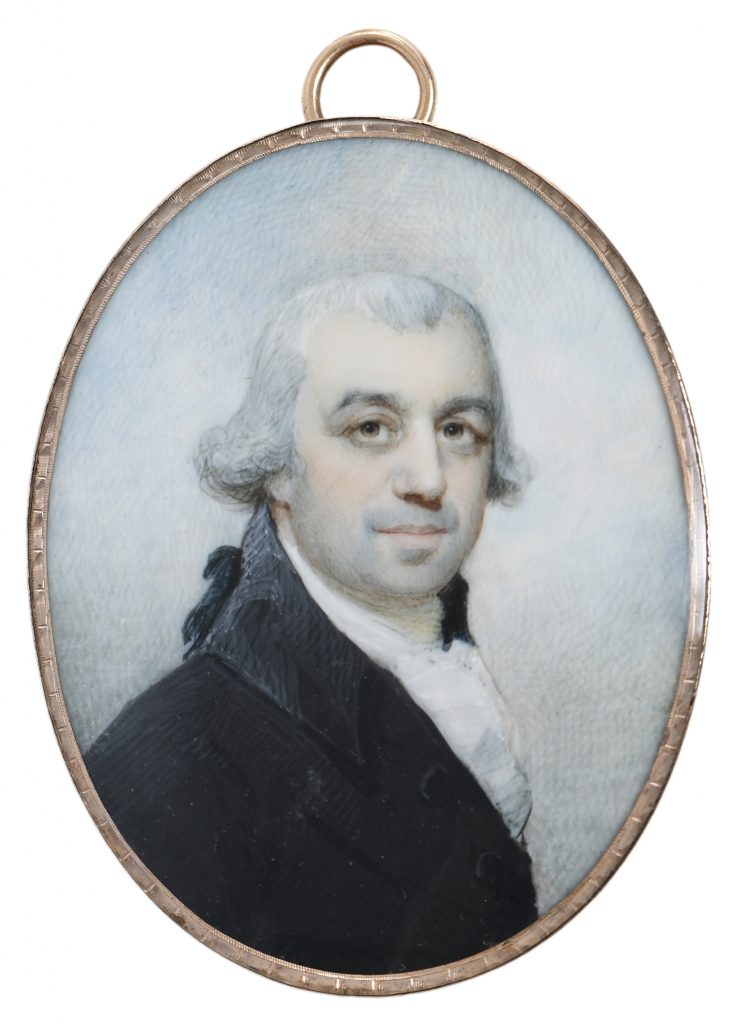 Benjamin Trott, Portrait Miniature
(New Jersey/New York/Pennsylvania, 1770-1843)
Judge James Iredell, US Supreme Court, George Washington appointee, unsigned, watercolor on ivory, casework in burnished bezel with brightwork fillet, verso metal surround and window with braided hair, 3 x 2-1/8 in.; with red leather case
Provenance: By descent in Iredell/Johnston family
Estimate: $8,000 – $12,000
>>>In 1790, a young thirty-eight year old lawyer was appointed to the Supreme Court of the United States by President George Washington. James Iredell had already served North Carolina as the comptroller of the Port of Edenton. In 1771, he was admitted to the bar after reading law under Governor Samuel Johnston, a fellow Edentonian. In 1773, Iredell married Johnston's sister, Hannah, joining these two influential families. During the Revolution he organized the court system and compiled and revised laws which were published in Iredell's Revisal. He is considered North Carolina's greatest essayist, having contributed many ideas that informed the authors of the Declaration of Independence. His treatise, Principles of the American Whig, published in 1776, outlining that mankind was intended to be happy, second, that government's role is to secure freedom and happiness for the people and third, to define the principles of British legal abuses. He served as the state's Attorney General from 1779-1781. As the leader of the Federalists in North Carolina, he strongly supported the ratification of the Constitution at the convention in 1788, though it failed to pass. After the inclusion of the Bill of Rights, Iredell's efforts succeeded with the Constitution being ratified in 1789.
James Iredell died as a result of his travels as a Supreme Court Justice at the age of forty-eight.
His son would become the twenty-third Governor of North Carolina.
References: Johnson, Dale T. American Portrait Miniatures in the Manney Collection. New York: The Metropolitan Museum of Art, 1990, pp. 215-217;
https://northcarolinahistory.org/encyclopedia/james-iredell-sr-1751-1799/
For more information on live, phone or absentee bidding, please click here.
For a private viewing prior to auction or for more information, please contact Laura Crockett at 828-254-6846 or info@brunkauctions.com