Collectors Compete Vigorously in Market-Affirming
Landmark Sale Of Late Connoisseur's American Furniture And Paintings
ASHEVILLE, N.C. – For immediate release, September 18, 2020:
"BEACON ROCK, NEWPORT," by John Frederick Kensett (1816-1872) led Brunk Auctions' highly-anticipated sale of the estate of William N. Banks Jr. and the Collection of Bankshaven, on September 12, selling for $664,200, nearly double its high estimate. In total, the single-owner 328-lot sale brought roughly $4.7 million, far exceeding its pre-auction estimates and widely reinforced that the market and appetite for 19th century American paintings and Federal and Classical American furniture is alive and well. Buyers from around the world, competed vigorously for coveted pieces, online, on the phone and via Zoom. A limited number of collectors bid in the room.
"We are thrilled with the results of the William N. Banks, Jr. sale, commented Andrew Brunk, President and CEO of Brunk Auctions. "One of the really exciting things about this sale was the breadth of response. Almost every major piece in the collection went to a different collector in a remarkable spread geographically all over the U.S., with buyers from Asia and the UK. A lot of collectors and dealers joined us in our excitement to feel the life and excitement back in this part of the market. Those kinds of numbers haven't been realized in a long time, and it truly felt like a landmark sale within this focused part of the field. William N. Banks, Jr. was the quintessential collector and it really got the attention of those who appreciate that style and period."
William N. Banks Jr., a consummate scholar/collector, historian, preservationist, playwright, and southern gentleman, passed away last November at age 95. A regular contributor to The Magazine Antiques, Banks was considered a Renaissance man — passionate about historic art, architecture and landscape and well-known for preserving historic homes in Georgia and New Hampshire.
"There's no question that there was a profound 'Banks factor' in play in the keen interest and success of the sale," says Andrew Brunk. William N. Banks, Jr. was very well-loved and well-known by the collecting community. He was an early collector and bought from the best dealers of the time. The reality is that there are not many collections out there left like this: collected fifty years ago, with great care, by a very astute collector, and left untouched since the late sixties. People viewed this auction as a real opportunity. When are you going to have a chance again at this many great classical objects in the same place at the same time? All of these elements came together to create a real 'Banks factor.'"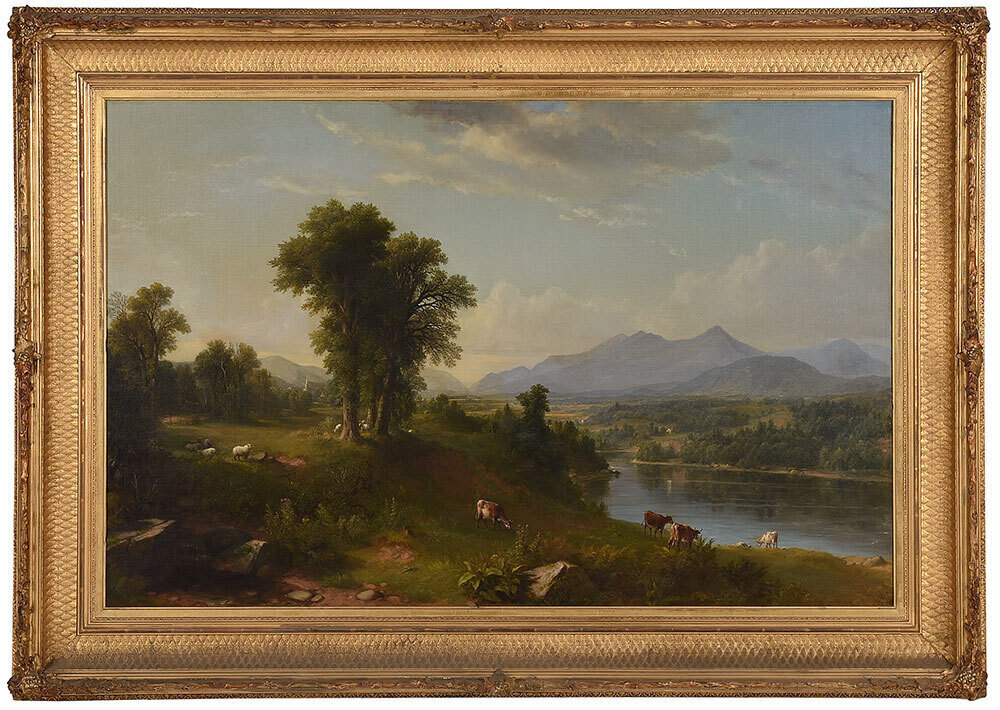 Other painting highlights include the much-admired "FRANCONIA RANGE FROM THE SOUTH WITH VILLAGE OF SOUTH WOODSTOCK, NEW HAMPSHIRE," an important 1857 work by Asher B. Durand, which sold for $516,600.00 (above),  Sanford Robinson Gifford's MT. WASHINGTON FROM THE SACO RIVER, 1856, oil on canvas, which sold for 369,000 (below).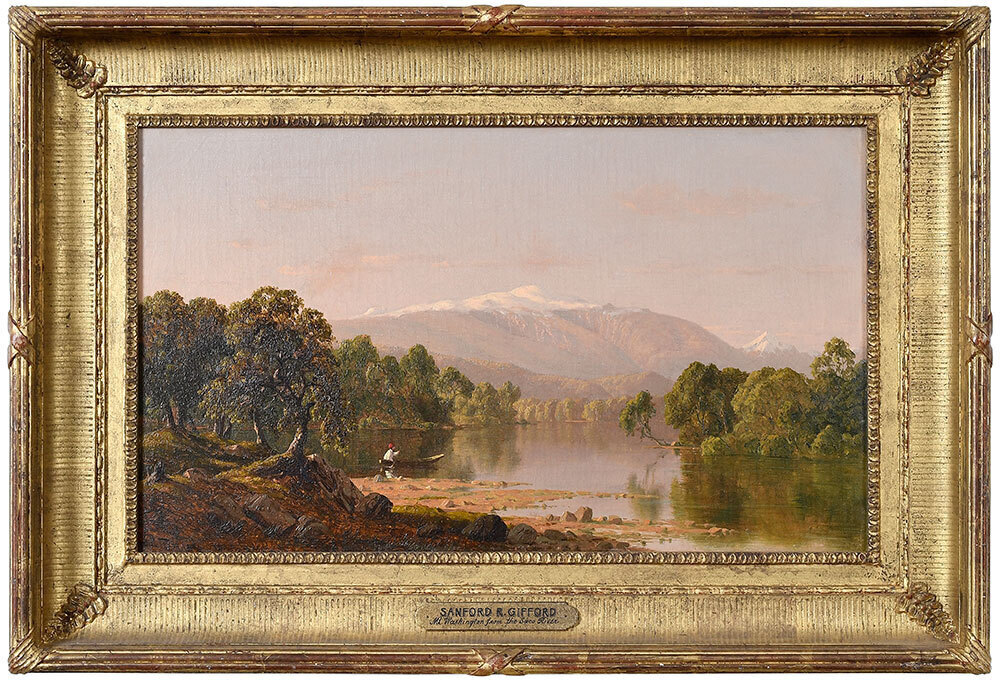 "We had all the best Hudson River School artists in the same room at the same time and each painting was top quality for that artist, commented Nan Zander, Brunk's American painting specialist and General Manager. "The paintings hadn't been on the market for a long time, and there were iconic images with similar examples found only in museums. To have the opportunity to take those home is what everybody waits for."
SOLD FURNITURE HIGHLIGHTS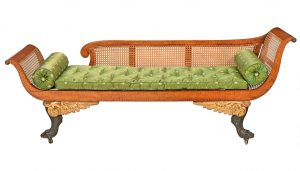 For lovers of the American decorative arts, the furniture highlights in the collection were world-class. Federal and American Classical Furniture was one of the great strengths of the William N. Banks, Jr. Collection, with signed pieces acquired from some of the most eminent specialists dealers in New York and Boston.
A SPECTACULAR TIGER-MAPLE GRECIAN SOFA (above) with a caned back and sides and verd antique and gilt feet, widely published before the sale, sold for $135,300 against its presale estimate of $20,000-30,000.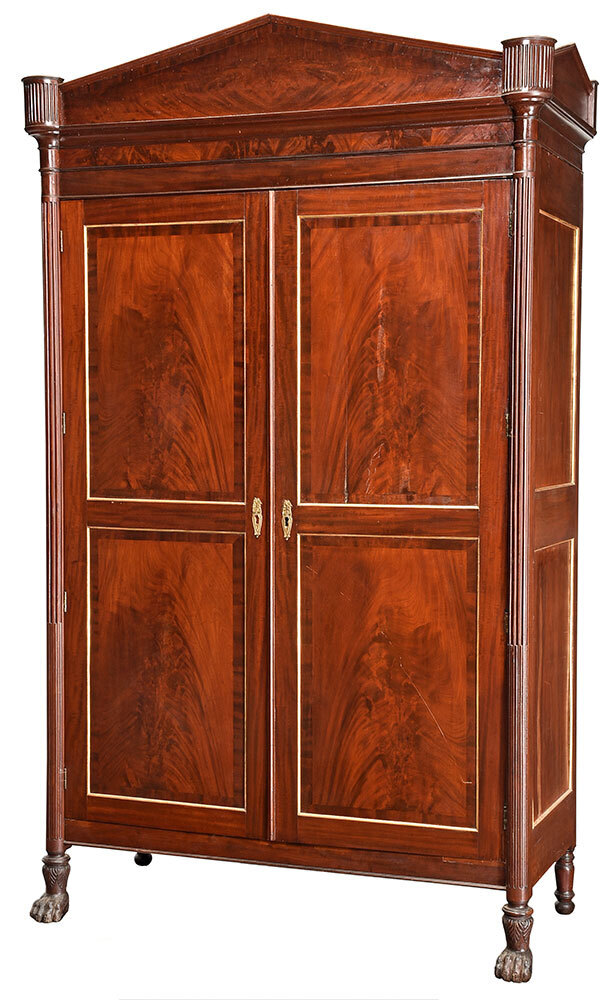 FINE NEW YORK CLASSICAL MAHOGANY FRENCH PRESS POSSIBLY SHOP OF HONORE LANNUIER, CIRCA 1815, Frenchpress or linen press. Price Realized including Buyer's Premium: $59,040 (Presale estimate: $12,000 – $18,000)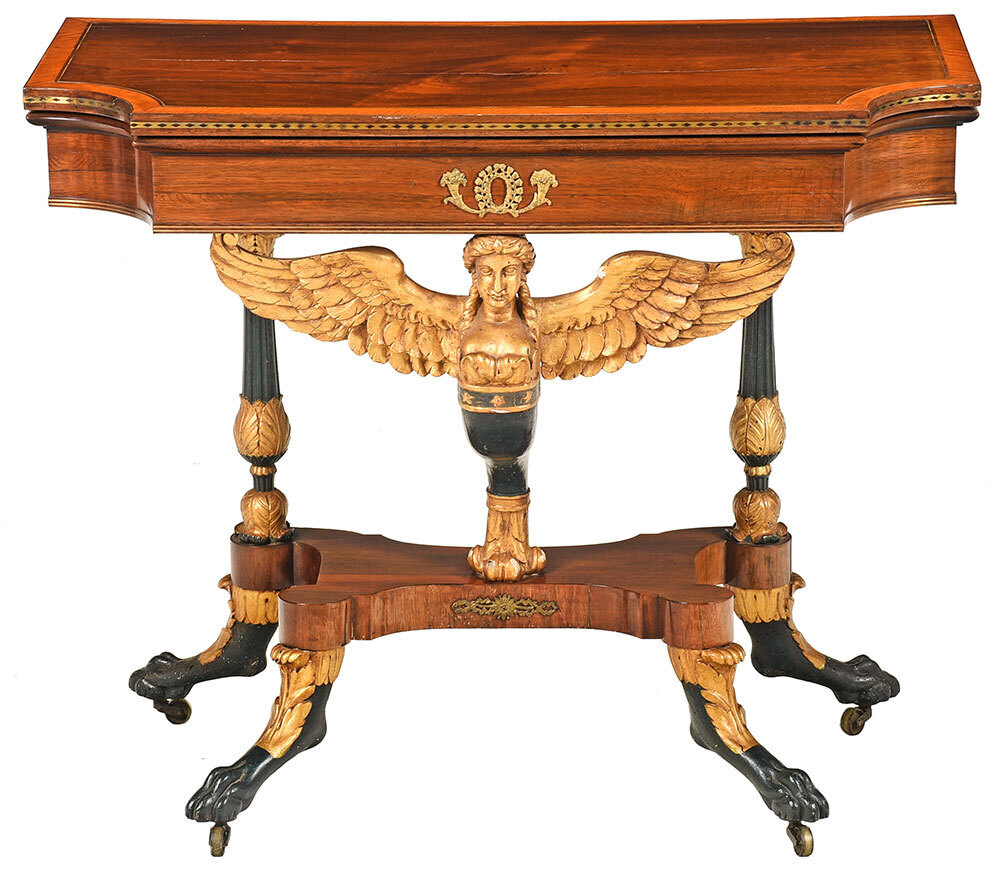 A FINE CLASSICAL GILT, VERT ANTIQUE,AND ROSEWOOD CARYATID TABLE, ATTRIBUTED TO DUNCAN PHYFE, 1815-1820, 29-1/4 x 35-3/4 x 18 in. Price Realized Including Buyer's Premium: $159,900 (Presale estimate: $40,000-60,000)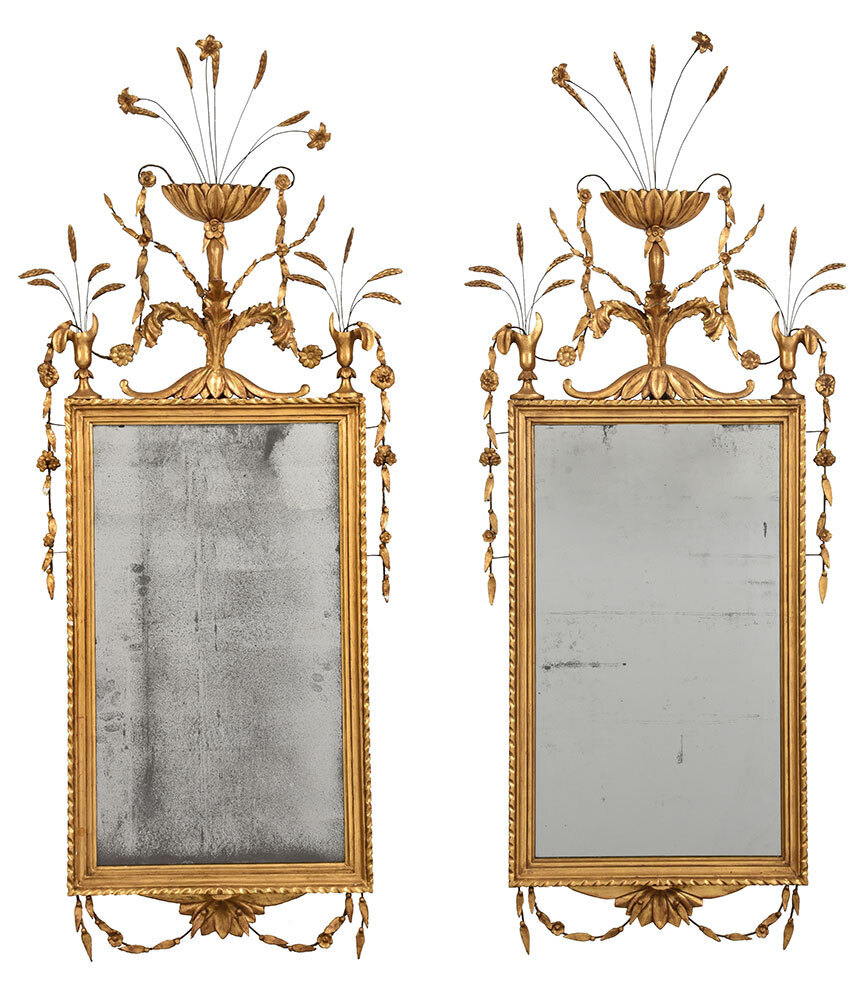 FINE FEDERAL CARVED AND GILTWOOD MIRROR attributed to New York, 1780-1800,with urn and floral spray central ornament,flanked by urn plinths containing floral sprays,over rectangular frame centering early mirrorplate, leaf carved drapery base pendant;together with a fine reproduction made tomatch; 57 x 24 in. Provenance: Israel Sack,New York, purchased October 1969 for $5,000 (accompanied by original receipt)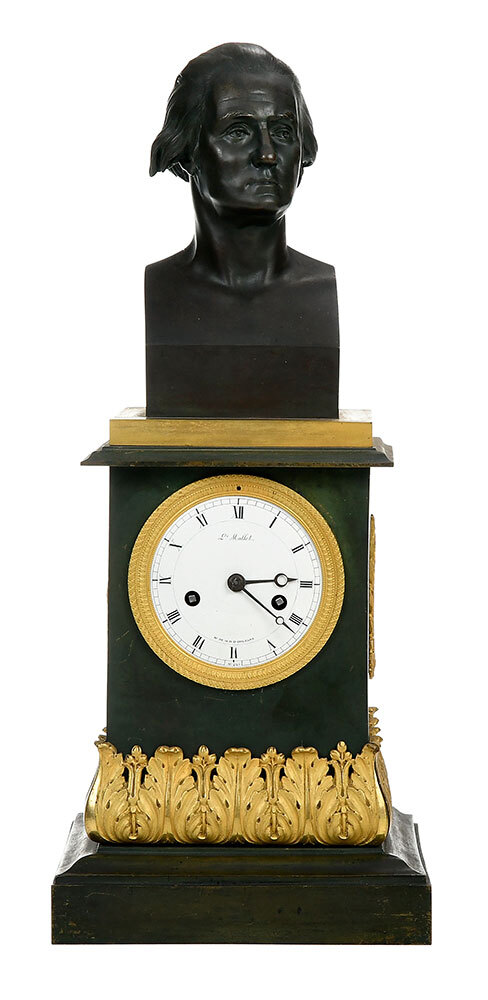 FINE NEOCLASSICAL GEORGEWASHINGTON MANTEL CLOCK, FRENCH, EARLY 19TH CENTURY, patinated bronze bust of Washington à l'antique on block casewith laurel wreath mounts on sides and applied ormolu acanthus leaves above plinth base, signed "Ls. Mallet/ H. DEM.D.D'Orleans", pendulum present,18-1/2 x 7-5/8 x 7-5/8 in. Price Realized Including Buyer's Premium: $27,060 (Presale estimate: $7,000 -$10,000)
Other collecting categories in the sale achieved outstanding results, including garden statuary from the world-renowned Bankshaven gardens. THE FOUR SEASONS GARDEN STATUES (below) American or European, late 19th/ early 20th century, four cast stone statues depicting each of the four seasons on carved plinths, figures approx. 38 in.; plinths 14-1/2 in. sold for $34,440 (Presale estimate: $800 – $1,200).

ABOUT WILLIAM N. BANKS, JR.
William Nathaniel Banks, Jr. (1924-2019) earned degrees at Dartmouth and Yale (Phi Beta Kappa) and was a four-time MacDowell Colony Fellow, playwright and writer. He was in residence at MacDowell in 1958, twice in 1964, and in 1965. His plays "The Curate's Play" and "The Glad Girls" were both professionally produced, and he was the longest standing member of MacDowell's Board of Directors, having served since 1966. Banks devoted his considerable energy and resources to Bankshaven, his beautiful 1820's Federal style home and gardens in Newnan, GA, which he rescued, restored and reconstructed on the site of his family's property. He was a generous supporter of many nonprofit and arts organizations including the High Museum, Atlanta, where he was a life board member. He was a Bryant Fellow of the Metropolitan Museum of Art in New York and maintained homes in New Hampshire, Georgia and New York City.