Rare Bound Volume of John Abbot Watercolors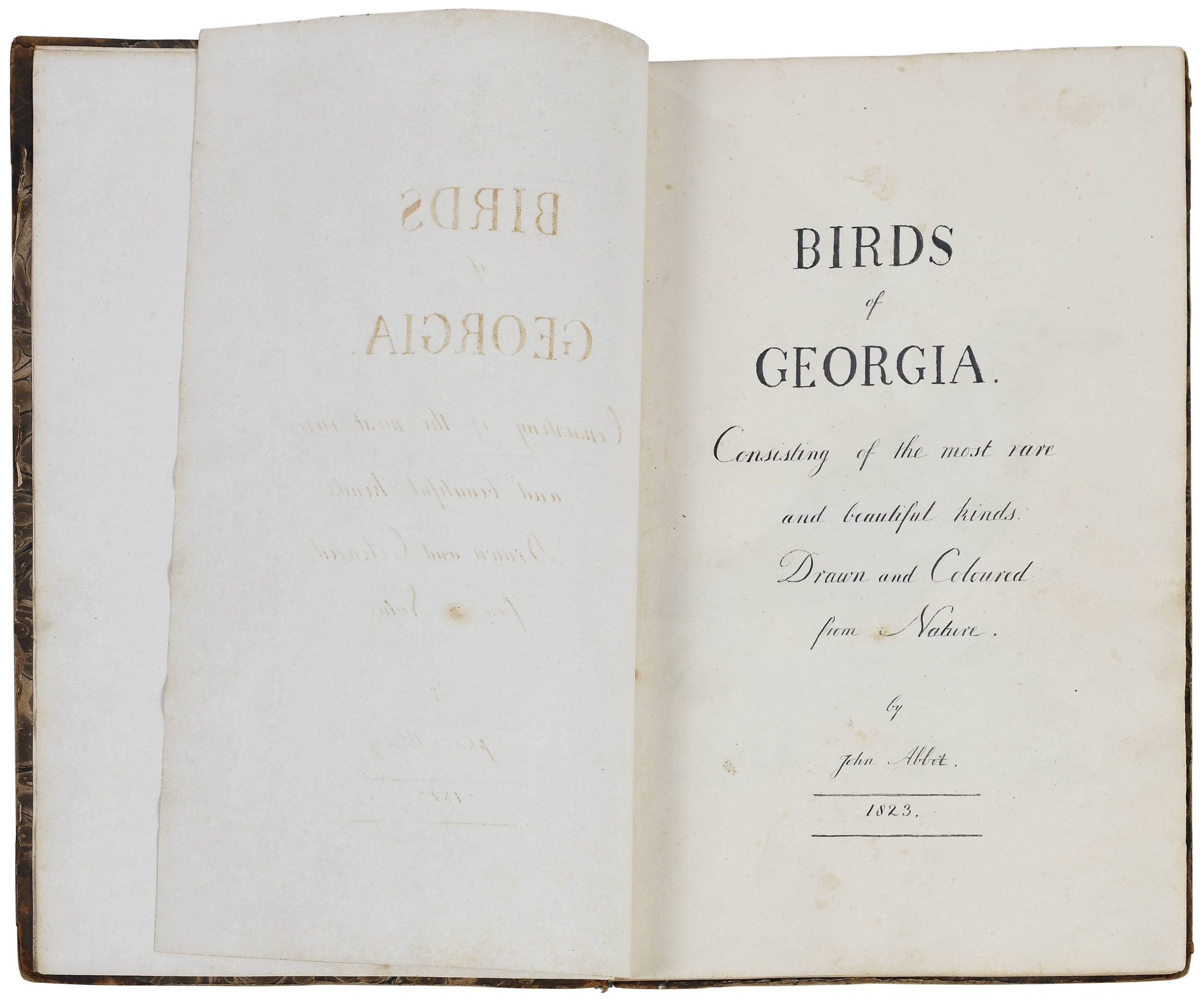 Premier Auction
Sat, Sep 17, 2022 09:00AM EDT
Estimate: $200,000 – $300,000
(English/American, 1751-circa 1840)
Birds of Georgia, Consisting of the most rare and beautiful kinds, Drawn and Coloured from Nature by John Abbot, 1823, 73 watercolors on wove paper, original full leather binding, 12-3/4 x 8-1/4 in.
Note: John Abbott was born in London, 1751. He was traveling the path to a career in the Law with his father, however he chose instead to spend a lifetime observing and recording the insects, butterflies and birds of Virginia and Georgia. He was fascinated by the natural world and drawn to the community of 18th century scientists who took their inspiration and acquired specimens from England's many colonies. In 1773 Abbot left his homeland of England, never to return, armed with a letter of introduction from the Royal Society of London, an agreement with the London jeweler John Francillon to serve as his agent for the sale of specimens and illustrations, and commissions from several collectors and scientists.
Abbot arrived in Virginia at the onset of the Revolutionary War – imperfect timing as he relied on British patronage and buyers for his watercolors and drawings. After 2 years in Virginia he moved to Georgia where he remained. The War of 1812 once again disrupted his sales in England and he turned to American clients but resumed trade with England after the war.
Abbot's work has been underrepresented in the discussion of early American naturalists as the vast majority of his work was sent to London. Appreciation of his work has grown as collectors farther afield have seen his lovely watercolors and shared his view of the natural world in the 18th century south. Abbot's watercolors and published works are held in public and private collections around the world.
Listing of birds as inscribed by the artist:
(Text in parentheses is on reverse of each image)
Turkey Buzzard (Vultur aura)
Bald Eagle (Falco leucocephalus, length 3 feet 3 inches)
Red breasted Hawk (Red breasted Falcon, length 18-1/4 inches)
Red breasted Hawk Female (Red breasted Falcon Female, length 18-1/2 inches)
Blue backed Falcon (Length 17-1/2 inches)
Blue backed Falcon Female (Length 20-1/2 inches)
Blue Falcon (Falco cerulea, length 13-1/2 inches, Female 16 inches)
Little Hawk (Length 13 inches. rare)
Chicken Hawk (Length 14 inches)
Sparrow Hawk (Falco sparverius, length 10 inches)
Sparrow Hawk Female
Virginian Eared Owl (Strix virginiana, length 22 inches)
Screch Owl (Length 8-1/2 inches)
White billed Woodpecker (Picus principalis, length 20 inches)
Pileated Woodpecker (Picus pileatus, length 17 inches)
Red headed Woodpecker (Picus erythrocephalus, length 9-1/2 inches)
Yellow bellied Woodpecker (Picus varius, length 8-1/2 inches)
Red Grosbeak (Loxia rubra, length 7-1/2. very rare)
Red Grosbeak Female
Blue Grosbeak (Loxia cerulea, 6-1/2 inches in length. rare)
Red Tanager (Tanagra rubra, length 7 inches. very rare)
Loggerhead Shrike (Lanius carolinensis)
Blue Jay (Corvus cristatus, length 10-1/2 inches)
Passenger Pigeon (Columba migratoria, length 16 inches)
Carolina Pigeon (Columba carolinensis)
Partridge (Maryland Partridge, Tetrao maralandus)
Cardinal Grosbeak (Loxia cardinalis, length 9 inches)
Ferruginous Thrush (Turdus rufus, length 11 inches)
Great Thrush (Turdus magna, length 7-3/4 inches)
Red breasted Thrush (Turdus migratorius, length 10 inches)
Marten (Hirundo urbica, length 7-3/4 inches)
Towhe Bunting (Emberiza erythropthalma, length 8-1/2 inches)
Carolina Chatterer (Ampelis garrulus, length 7 inches)
Great meadow Lark (Alauda magna, length 9-1/2 inches)
Nonpareil (Painted Bunting, Emberiza ciris, length 5-1/2 inches)
Fox coloured Sparrow (Fringilla rufa, length 7 inches)
White throated Sparrow (Fringilla albicollis, 6-1/2 inches in length)
Yellow winged Sparrow (Fringilla passerina, length 4-3/4 not common)
American Crossbill (Curvirostra americana, length 5-3/4 extent I.[?]. Female rather less)
Red throated huming Bird (Colubris troculis, length 3-1/4 inches. Female 3-3/4)
Blue Warbler (Sylvia sialis, length 7 in's)
Yellow throated Warbler (Sylvia flavicollis, length 5-1/4 in's)
Prairie Warbler (Sylvia minuta, length 4-1/4 in's)
Yellow breasted Warbler (Sylvia trichas, length 4-1/4 in's)
Pine creeping Warbler (Sylvia pinus, length 5-1/4 in's)
Prothonotary Warbler (Sylvia prothonotarius, length 5-1/2 in's)
Hooded Warbler (Sylvia mitrata, length 5-1/2 in's)
Blue eyed Warbler (Sylvia citronella, length 3-3/4 in's)
Black and yellow Warbler (Sylvia magnolia, length 5 in's. very rare)
Yellow rumped Warbler (Sylvia coronata, length 6 in's)
Blue yellow backed Warbler (Sylvia pusilla, length 4 in's)
Black throated Warbler (Sylvia canadensis, length 5-1/4 in's)
Worm eating Warbler (Sylvia vermivora, length 5-1/4 in's)
Crested Flycatcher (Muscicapa crinita, length 9-1/2 in's)
Solitary Flycatcher (Muscicapa solitaria, length 5-1/2 in's)
Black headed Flycatcher (length 5-1/4 in's)
Yellow breasted Flycatcher (Length 5-1/2 in's. very rare)
Ruby crowned Wren (Sylvia calendula)
Georgia Wren and Little Wren (very rare)
Purple Grakle (Gracula quiscula, length 12 in's)
Purple Grakle Female (Length 10-1/2 in's)
Boat tailed Grakle (Gracula barata, length 15 in's. Female 12)
Mimick Thrush (Turdus polyglottus, length 9-1/2 inches)
Noisy Plover (Charadrius vociferous, length 10 in's)
Golden legged Sandpiper (Length 13 in's)
Great Heron (Ardea herodias, length 4 feet)
Great white Heron (Ardea alba, length 3 feet 4 inches)
Ash coloured Heron (Length near 4 feet)
Green Heron (Ardea virescens, length 18-1/2 in's)
Brown Ibis (Tantalus fuscus, length 24-1/2 in's)
Blue Heron (Ardea caerulea, length 23-1/2 in's)
Summer Drake (Summer Duck, Anas sponsa, length 17 inc's)
Black and white Crested Duck
blank page
Lepidoptera pencil sketch, swallowtail species
Provenance: Private London Library; The Collection of Robert Weitz, Savannah, Georgia; The Julian D. Kelly, Jr. Living Trust
Condition: color and quality of the hand painted birds is exceptional, as they have been in a closed volume since their painting in 1823; binding with some light wear, one of the endpapers is loose