With its flash of color and pattern and a delicate and ethereal quality, the opal is a unique gemstone with no two stones alike. As October's birthstone, we thought this the perfect time to show off some of the opal pieces we will present for auction this Fall.
November 9th  Richmond, Virginia Auction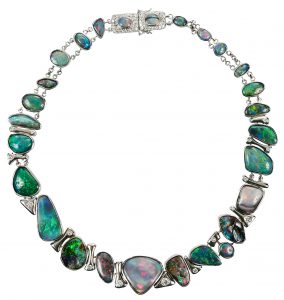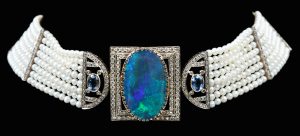 Lot 316 was custom designed and created around this stunning selection of opal stones. The strong play of color throughout the necklace is dazzling and will truly stand out in a crowd. Be sure to take a look at the back of the necklace –it is perfect for the music lover with its notes engraved into the mounting. 
A show stopper choker, Lot 364, is an antique style necklace that centers around a rich and colorful Lightning Ridge opal. Diamonds and pearls give the necklace a classic feel perfect for dressing up any occasion.
December 5th-7th Asheville Premier Auction
If you're searching for the perfect statement earrings- look no further! With beautiful and large examples of opals, Lot 1142 is breathtaking. With complimentary diamonds over a half carat each, this pair of 14kt. Opal and Diamond earrings is sure to make a lasting impression.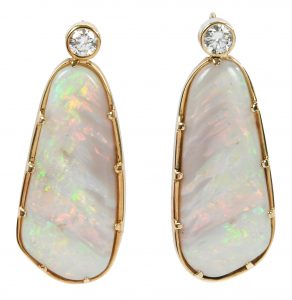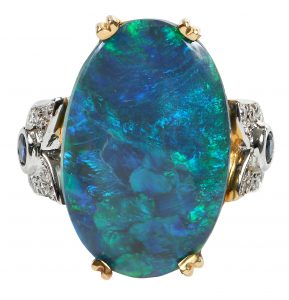 Lot 1141, an 18kt. Opal, Sapphire, and Diamond Ring, boasts a stunning combination of color. With its sophisticated choice of colored stones and opals, this ring exudes elegance. The oval black cabochon opal, the luckiest of opal stones, is sure to bring its wearer delight.

Join us online and in person when we bring these remarkable pieces to sale in Richmond, Virginia on November 9th and in Asheville, North Carolina on December 5th-7th.