Born into slavery at the turn of the 19th century, Dave Drake (also known as Dave the Potter) learned the art of throwing, turning, and glazing pottery on the Abner Landrum plantation and later, on the Lewis Miles plantation in Edgefield, South Carolina. This district of South Carolina was one of the few areas in the United States to rely on slave labor to produce utilitarian stoneware needed for storage of food and raw ingredients at plantations. 
Dave Drake crafted storage jars, pitchers, churns, and jugs that required extraordinary strength and skill. Unique to his work were the inscribed dates of production, Drake's  signature, and in cases, lines of poetry as well. While many slaves manufactured these vessels, few potters were literate. Dave Drake's inscriptions detailed his thoughts and reflections on love, money, religion, and life as a slave. After emancipation, Dave Drake continued his work crafting pottery until his death in 1870s. Over time, this alkaline-glazed stoneware has been valued for its function, intrinsic beauty, and as a vessel for the culture and history of a potter, his community, and the American South.
—–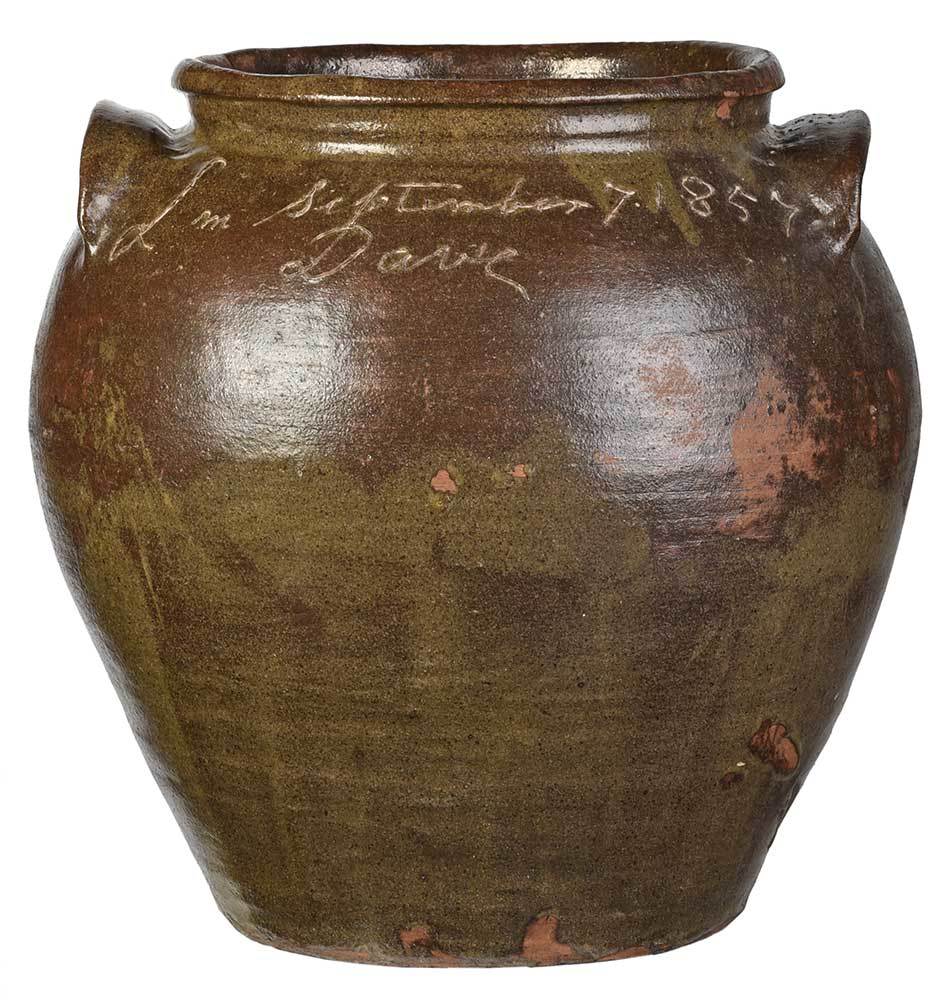 Monumental "Dave" Edgefield Stoneware Jar
Edgefield District, South Carolina, dated 1857, runny green and brown alkaline glaze over wide shouldered ovoid form, thick turned rim at neck, large applied lug handles at shoulder measuring 7-1/4 in. and 7 in., bold inscription between handles stating "Lm September 7 1857" and "Dave", 18 in. tall at highest point by 17 in. wide.
Illustrated: May 1998, [Antiques Magazine], page 644.  In the inscription the "p" in September and the "D" in Dave were inscribed together in the same stroke.
Provenance: Collection of Tony and Marie Shank; Collection of Brad Rauschenberg and Judy Aanstad
February 8, 2020 / Lot 1210 / Estimate: $40,000 – $60,000