Michelle Tolini Finamore Interview | August 16, 2023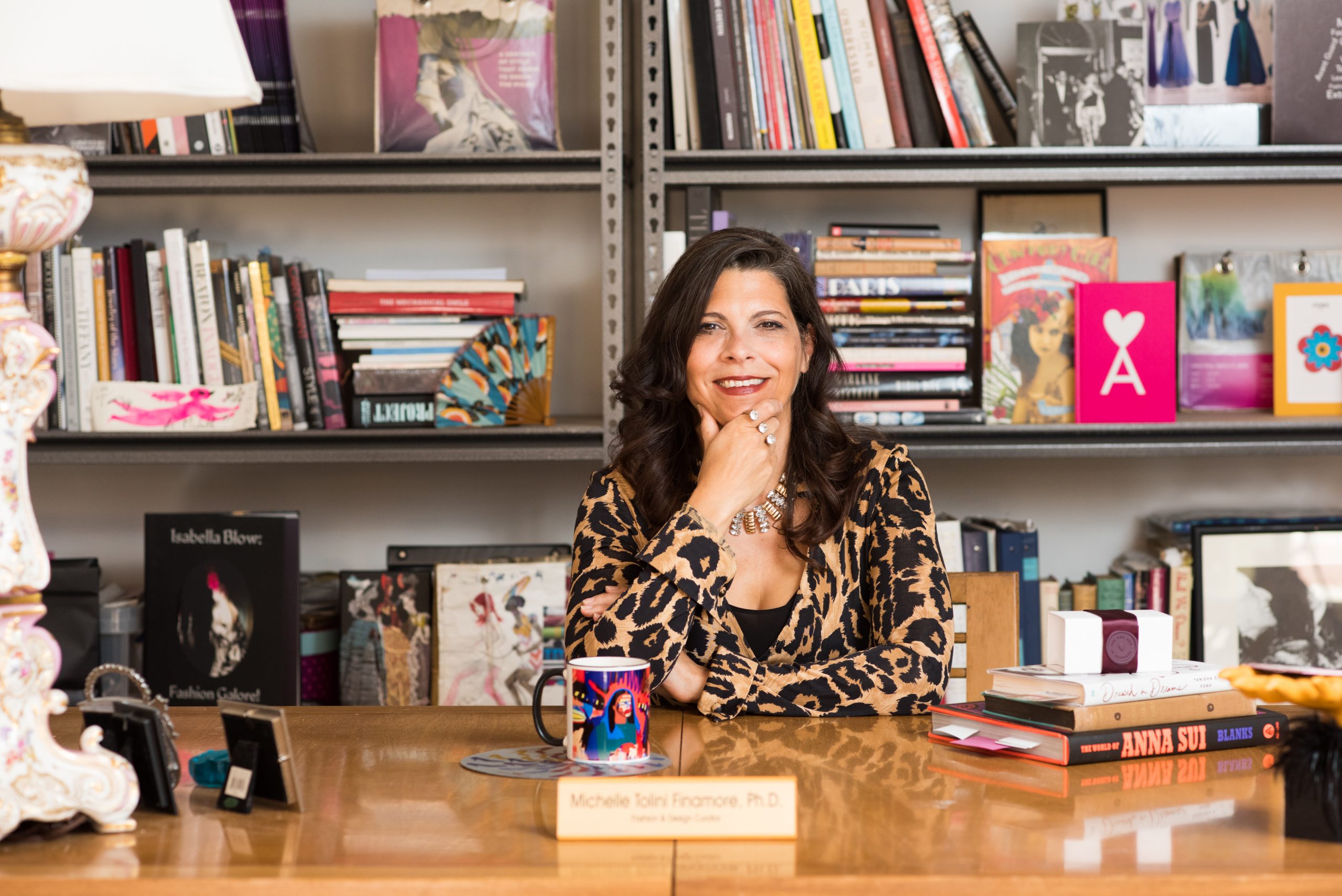 Michelle Tolini Finamore (photo by Kim Indresano)
Michelle Tolini Finamore is a fashion historian and curator, her newest exhibition which started at Crystal Bridges Museum of American Art, Fashioning America: Grit to Glamour is traveling and has brought her through Asheville, North Carolina. Brunk Auctions was graciously given the opportunity to sit with her and discuss her life and career as well as get her input on the fashion world at large. Below is a transcript of the conversation between Mrs. Finamore, intern Zeke Davis, and luxury goods cataloger Jeffrey Johnson.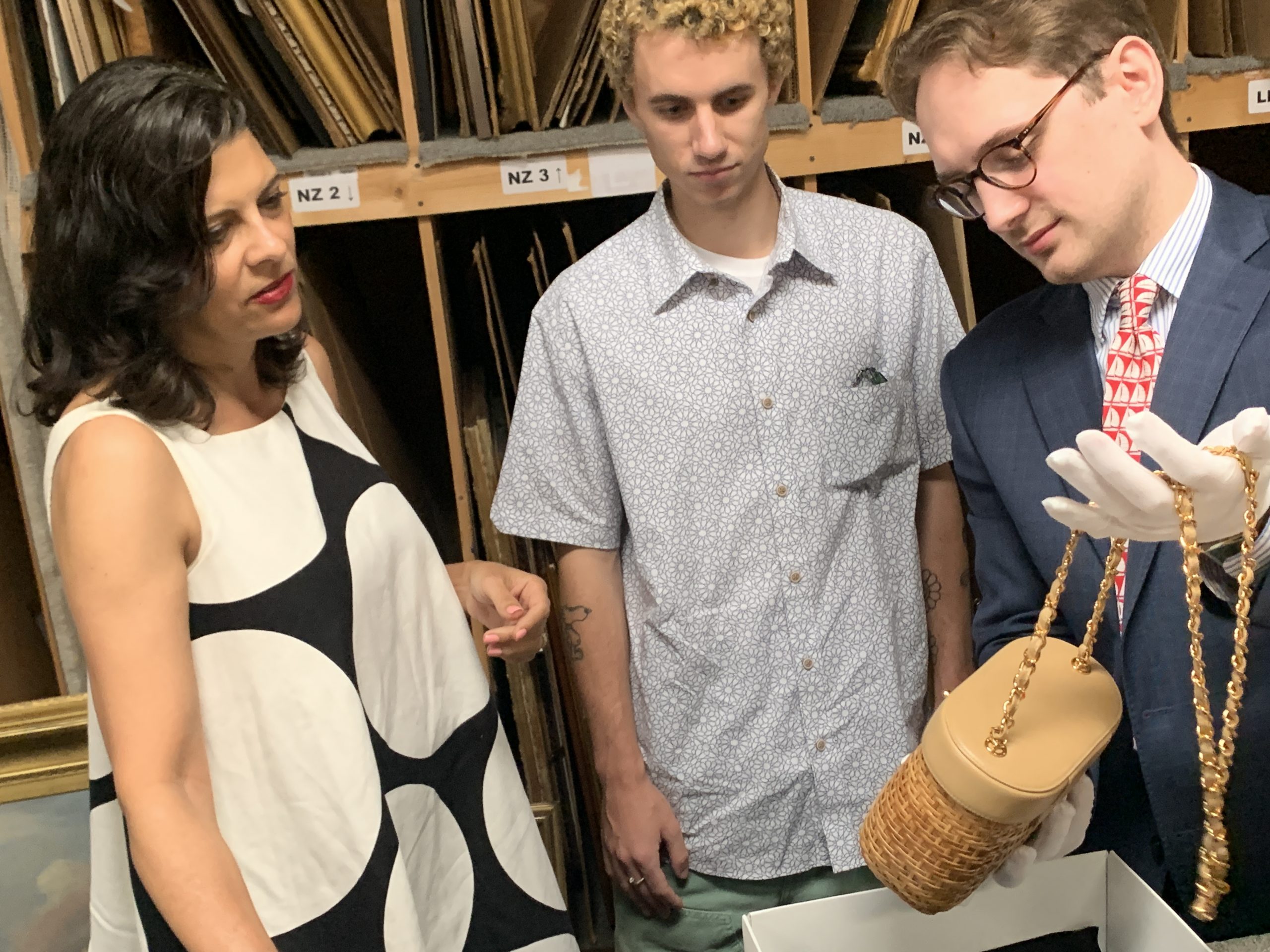 Is there anything about your job that might surprise people?
I think that one of the things that has shifted in the curatorial world is that we are not in this era where the curator is solely focused on scholarly pursuits. You have to be a jack of all trades in many ways. So, being a curator isn't solely about focusing on objects and creating exhibitions and publications – fundraising and donor relations are a huge aspect of the job. There's a lot of public-facing work, development, and administration that is also a part of it. You're not the cloistered curator that was the norm 20-25 years ago. You might have smaller institutions that have that sort of model, but if you work in a larger institution, you're consistently out there in the world. Thinking about what resonates with current culture is another aspect of curatorial work right now.
As someone who's worked in fashion in the 20th and 21st centuries what are some similarities and differences between the two periods?
The Internet and social media have changed everything. I think the way you consume fashion, the way you shop for fashion, the way you visualize fashion, the way you visualize yourself – the idea of self-fashioning and personal identity that you're projecting through social media – has really affected the way designers approach design. I also think it's opened up incredible possibilities, like more creative freedom in many ways, which I think is quite wonderful. Brick and mortar stores are there, but the competition from online sites has challenged the way people shop, and I think designers have to respond to that. One thing that we've seen over the course of the end of the 20th and beginning of the 21st century is increased public access to fashion and high fashion; think about how aware you are of luxury brands and designers. Designers, in many cases, have reached a celebrity-like level. The
Project Runway
phenomenon has brought a lot more people into the field because it has this public face that it never did before. The challenging aspect of this, however, is that although it is accessible through the internet and through imagery, it's not actually financially accessible for most people, which is a very interesting tension. In the 1950s, couture shows were really for the elite classes, and they were these small salon shows that you were invited to – now they're splashed everywhere. You can look at vogue.com and style.com and see the runway in real time.
What do you see as the future of luxury goods and fashion in the museum sector and auction market?
I was just looking at Sotheby's selling Tupac's ring from the VMA Awards – the fact that these major auction houses have gone into Hip-Hop jewelry, for example, is incredible to me. I've always followed it, but I never thought it would become as big as it has. The sneaker sales, the luxury sneakers sales – it's astonishing to me how much people will pay for some of those. We are seeing an elevation of Streetwear and American pop culture that has only intensified in recent years. You know, you go back to Warhol and so much of what he was doing in the 60s and 70s – we are seeing the full flowering of that. In terms of the luxury brands, one of the things that is really key to these big conglomerates like LVMH and Kering is that the handbags and the perfumes are their bread and butter. The couture clothes don't make the money – it's really the accessories. The luxury runway shows are really mostly just for show and marketing; there is an audience and clientele for that, but that is not really what drives their bottom line. Many people would rather invest in the accessories with logos, such as handbags, that they can have for 10 to 20 years. For this reason, items like the Hermes Birkin or a Chanel bag, which retain their style through the ever-changing fashion cycle, have seen a lot of growth in the auction world.
What do you think of the introduction and immersion of streetwear fashion in the couture world?
I think it's enlivening it in many ways. I also think it's really bringing this reality to what designers are creating, because I think so much of fashion has this element of fantasy, and that's something I love about it as well. You know everyone wants to get lost in fantasy, but the reality is how many people are wearing those things? It's a very limited market, so I think streetwear is addressing the way people really dress. We've also seen this extreme casual-ization of  clothing and fashion generally, which I think there are a lot of reasons for, but I think one of them is the tech world, which is not focused on the suit and traditional business attire. If designers want to be seen as future-thinking, they have to respond to what people are wearing on the street.
Do you think streetwear is here to stay then?
That I am not so sure about because fashion is so cyclical. If you look back in history, even from the 20th century to today, in the 1950s there was this return to formality – men in suits and women in overtly feminine wasp waist dresses which signified a return to more traditional gender roles after the disruption of the World War II years. Then the 1960s happen, which is this huge shake up, a counter culture revolution, with a younger generation rejecting all that their parent's generations represent. So you've got hippie attire, you've got the peacock revolution, you have a crafty look. Then in the 1970s you've got a rejection of the hippie stuff in this turn to disco and minimalism, there's always a see-sawing back and forth. So maybe there will be this rejection of the sweatpants and the sneakers – it's hard to predict. However, I think we will never truly abandon it, because when you think about American fashion and American fashion contributions to the global world stage, so much of it is that casual attire – it's jeans, it's t-shirts, it's sneakers. Those have stuck with us since the 1950s and are not going away.
You have a picture of Young Thug in an Alessandro Trincone dress on your website. Could you go into detail about why that is?
So
Gender-Bending Fashion
was an exhibit I was thinking about for a while. I kept proposing a menswear show at the museum and I could never get any traction. People thought it would be boring because it would only be suits, but that was not the case; there's this amazing and incredible creative flowering happening right now in menswear – that's what I wanted to celebrate. As I went back to the drawing board and rethought the show, I thought you know what, maybe there is something more interesting here in terms of how we look at gendered fashion throughout history and why this idea of a man in a suit, women in a dress has stuck with us in American and European fashion. It's not the case in other parts of the world.. As for the Trincone piece, when I was looking at different designers who were really pushing the envelope and questioning gendered visions in fashion, his work came up. I just love that somebody like Young Thug chose that garment to wear on the cover of his album and when he was questioned about it he said 'I don't see anything feminine about this.' When he looked at the outfit, it reminded him of one of the characters in
Mortal Kombat
, the video game, because it was a samurai-inspired garment and so for him, he put it on and he felt like it was empowering rather than feminizing. That is what I wanted the exhibit to be about. I was so delighted we could get that dress for the show – it was kind of like the centerpiece as soon as you walked into the gallery.
What makes an item worthy of exhibition?
Some of that has changed in recent years – in any field, you get different areas of interest that surface over time and then decline. For fashion, it needs to tell a story about construction – it has to be something that is beautifully constructed, it has to have a designer behind it who's very passionate about what they are creating, or it can tell a story about a wearer. You can look at it in various ways. It also depends on the type of museum – when you're working at a fine arts museum, you're really looking for the highest quality of craftsmanship. If you're working in a social history museum, it's a slightly different focus – you could get someone's Girl Scout uniform and there's this great story behind it and it still has value. So I think it really does depend on the context. For me, I always want the object to have a narrative that's really compelling and can really tell you a story. It's interesting because there's been such a shift in focus in fashion history generally, so now there's more appreciation for everyday wear, because people have not collected everyday wear. What women in the 1820s wore on the prairie, for example –  those clothes weren't saved and yet people now want to know what they are. With the expanding of the narrative in terms of people of color and black designers, there was never really a focus on that in fashion history pre-1970. So one of the things I've tried to do with Fashioning America is find the black dressmakers, Native American dressmakers, who were creating incredible fashions but haven't been part of the traditional canon.
Has the recent introduction of AI and other technology as a method of design in art creation changed your perspective on fashion, or do you have an opinion on how it might affect the industry in the coming years?
I think there are already designers embracing it and plenty of them have looked at it as the future. I do think that you will still always need someone to do that crafting. Speaking of a virtual world, in the
Fashioning America
exhibit at Crystal Bridges, I had an avatar based on the bionic pop star Viktoria Modesta in the exhibition and you could change her garments. I felt like this is the future in many ways, and a lot of people already play with self-fashioning in the virtual realm. My kids play video games – they have avatars that they dress. Tommy Hilfiger is an example of one designer who is designing for the virtual world, creating garments for Minecraft characters. Hilifger has always tapped into the younger generation; he reached out to the Hip-Hop world in the 1990s to dress them. As far as the designing process, that kind of remains to be seen. I see designers already exploring how to work with it, but I feel like if you're removing yourself from the crafting of a garment, it's going to be evident. I feel like you still need the hand skills to make a beautiful piece. The one thing I worry about with AI is there may be a further divide between elite craftsmanship of the couture world and AI driving what everyone else wears, which ends up with this certain sameness of quality.
Where do you go for inspiration for your exhibitions?
One of the things I love about contemporary fashion is that contemporary fashion designers are like contemporary artists, they respond immediately to what's happening out there in the zeitgeist. With Gender Bending Fashion for example I noticed five or six years before this of great flowering of creativity and a questioning of gender boundaries that it was immediately evident on the runways. I think tracking what designers are doing and what they're responding to really is an indication of where we will be going in the future. Just like contemporary artists, designers are on the edge and cusp of future trends – I love watching what they're paying attention to.
Do you have any advice or words of wisdom for aspiring fashion designers?
It's a tough industry – you have to have a very stiff backbone, you have to be very assertive, aggressive even, about promoting yourself. I think you have to learn the business side of it as well as the creative side, and I think that's what divides the successful people from the unsuccessful ones. You really have to be out there beating your own drum, making a name for yourself. It's hard work. The designers I know work their tail off and it is 24/7 and you have to be totally passionate and devoted to your craft.
Finally, what is one of your favorite pieces you've come across in your work as a curator of fashion arts?
It's so hard – there are so many amazing pieces. I'll say one of my favorite designers is Madeleine Vionnet from the 1920s and 1930s. Her work is so unique because she was a mathematician. If you look at her clothing, it can all be broken down into geometric forms – it's incredible, and yet when they get on the body they just follow the lines of the body so beautifully. The book
Madeleine Vionnet
by Betty Kirke deconstructs her garments and puts the patterns next to the garment, and you look at it and you kind of see the science behind the construction and it's just spectacular – her work is so mind-blowingly beautiful. She was really a pioneer in many ways.
Michelle Tolini Finamore's interest in fashion came at a young age from her mother who owned a dress shop. Initially studying Art History, Michelle started working with fashion history at the Rhode Island School of Design in their fashion and textile department. She received her masters from the Fashion Institute of Technology, and her PHD from the Bard Graduate Center. During this time Michelle started working at the Museum of Fine Arts, Boston, where she would eventually come on as the Penny Vinik Curator of Fashion Arts; recently at the end of 2019 she went independent.
Michelle has done quite a few shows for the Museum of Fine Arts, Boston including Think Pink which was all about the gendered nature of the color pink in history through objects, garments, embroidery, and imagery, one on Hollywood Glamour, and Gender Bending Fashion which was about the history of gendered dress starting in the 19th century through the present. She has another show coming up at the Bard Graduate center on fashion in silent film.
Brunk Auctions is excited to present a fascinating collection of Luxury Goods in our upcoming September Premier & Emporium Auctions | September 14-16, 2023. Included among the selections are a Hermes Birkin 35 Cacao Handbag, a rare Chanel Wicker and Tan Leather Shoulder Bag, among a collection of items from the Estate of Donna Summer.