Master H. B. of the Griffin Head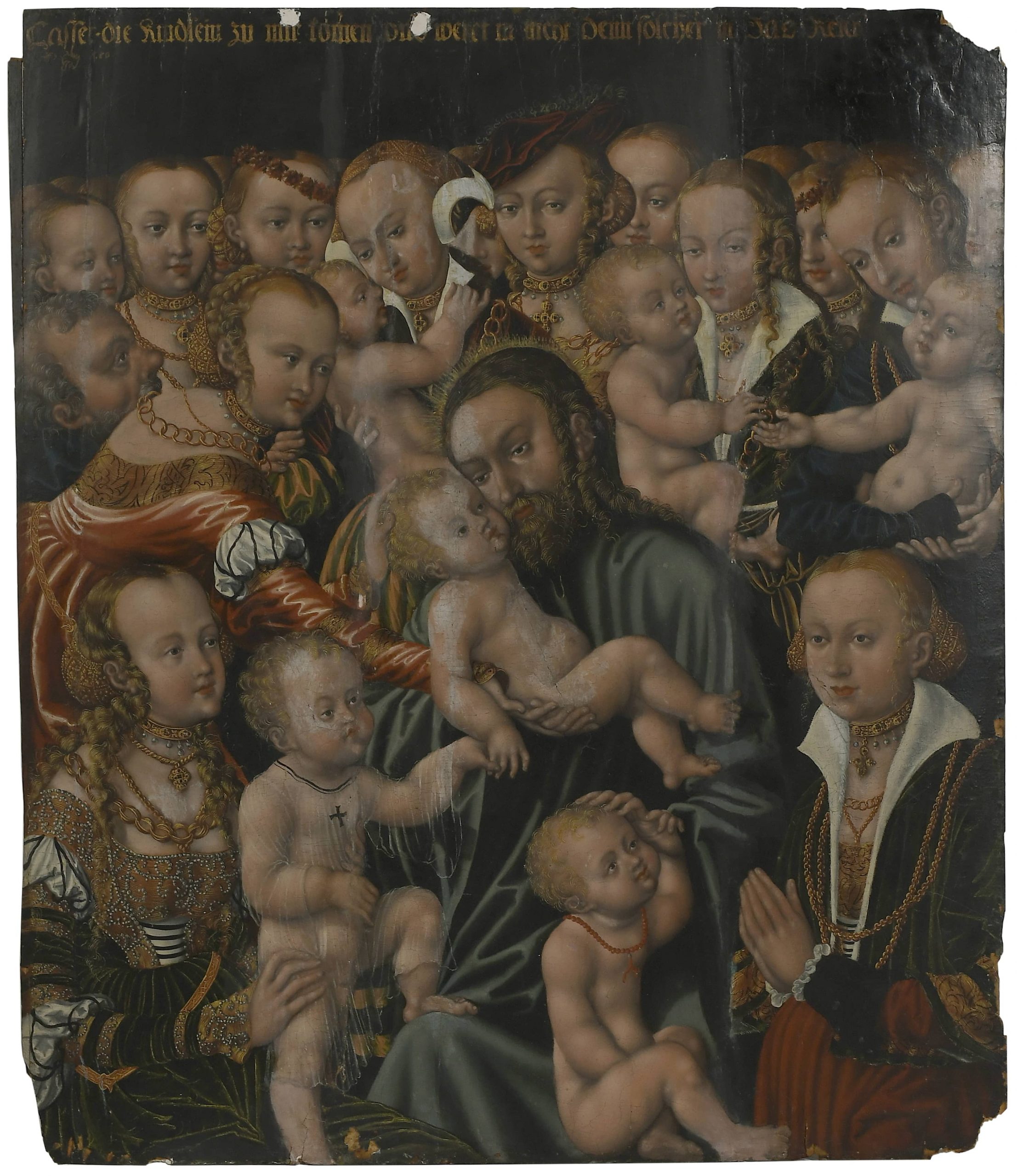 Premier Auction
January 26, 2019 09:00 AM EST Asheville, North Carolina
Estimate: $80,000 – $120,000
(German, 16th century)
Christ Blessing the Children, circa 1550, signed upper left "HB" with the griffin head cypher, dated indistinctly and inscribed with Matthew 19:14 in German, ["Lasset die Kindlin zu mir komen . und weret in nicht . Denn solcher ist das Reich Gottes"] (Let the Children come to me, forbid them not, for such is the Kingdom of God), oil on panel, 42 x 36 in. (106.68 x 91.44 cm.); unframed
Note:
The Master H. B of the Griffin Head is identified as someone working within the workshop of Lucas Cranach The Elder (1472–1553). Only two other signed and documented works by this artist are known to exist, one is held by the Episcopal Cathedral and Diocesan Museum in Mainz, Germany and the other by The Louvre, Paris, France.
This large and detailed panel draws inspiration from Cranach himself, who created at least two compositions of this subject painted in 1537 and 1538 respectively.
The setting for this scene occurs in the Bible's New Testament as Jesus leaves Galilee and heads toward Judea. A great mass of people have followed him there including the Pharisees who were trying to tempt him. In the midst of Jesus answering their questions, little children were brought to him for a blessing. The disciples sought to protect Christ from the crowds and this intrusion but Jesus' response was both tender towards the children and a rebuke to the Pharisees and their pride and even toward his overly controlling disciples. He speaks, saying, "Let the children alone, and do not hinder them from coming to Me; for the kingdom of heaven belongs to such as these." (NASV)
Christ is depicted in the center crowded by both babies and young women dressed in fine Renaissance clothes and jewelry and likely representing patrons. A woman at the left still has her hand under her child as Christ cradles him in His arms. A male head to left represents one of the disciples whose desire to shield Christ has been over-ruled verbally and cleverly as a device within the composition. This subject, which was rarely depicted before the 16th century, "occupied a central role in reformation iconography" according to the Lucas Cranach Digital Archive.
See: http://lucascranach.org/DE_BDDM_M00524
Brunk Auctions would like to extend our gratitude to Helen Smith-Contini, Cranach Digital Archive, for her kind assistance with the research on this lot.
This lot will be included on Lucas Cranach Digital Archive and is also accompanied by a certificate from the Art Loss Register, ref: S00140864
Provenance: Private Florida Collection
Condition: panel warped with various periods of repairs evident verso, vertical checking with related retouch, several periods of retouch with some lightened pigment, craquelure, possible trimmed at left and right edges, losses to pigment and panel with two areas of fill at top