Massachusetts Signed Pictorial Needlework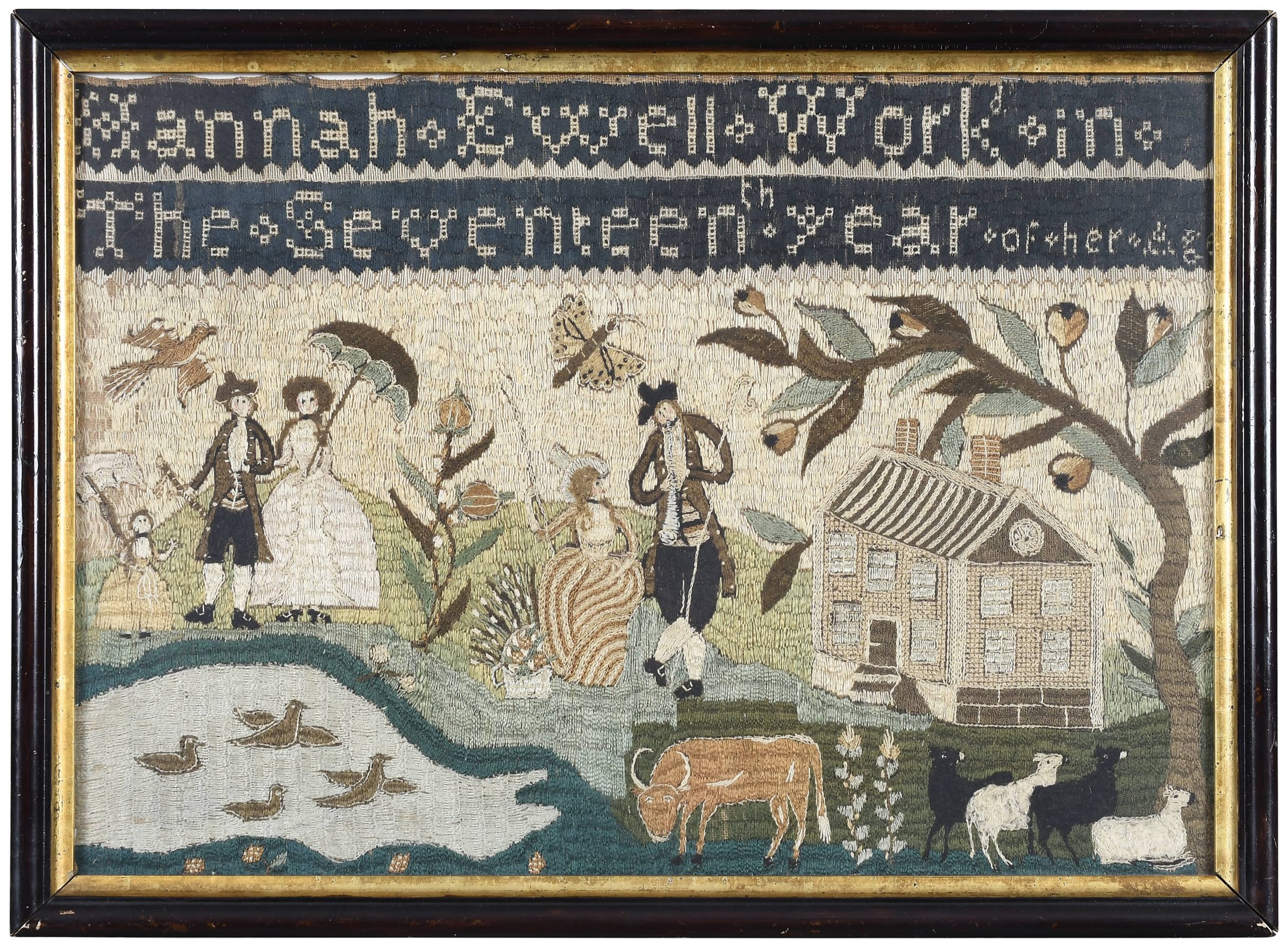 Premier Auction
March 26, 2022 09:00 AM EDT Asheville, North Carolina
Estimate: $20,000 – $30,000
By Hannah Ewell at age 16 (in the Seventeenth year of her age), possibly Hannah Ewell of Marshfield, Massachusetts, 1769-1849, two upper registers in deep blue background over a bucolic scene, the center depicting a piping shepherd and shepherdess set in a grassy hillock, with house on the right, strolling couple under a parasol with young girl on the left, cow, flock of sheep, pond with wading ducks, flowering tree and a butterfly, done in split stitch, chain stitch, eyelet, and outline, crinkled silk, silk floss, and wool highlights, New England laid (self-couching), selvage edge at right, other edges tuned under twice, and hemmed, on linen, 12-1/2 x 18 in.; wood frame, 14-1/2 x 20 in.
Note: In the 18th century the mercantile wealth of Boston, Massachusetts, was mirrored in its gentry's pursuit of refined culture. The behavior and accomplishments of a family's daughter was held in the same regard as fashionable clothing and refined furnishings. Education for girls, which had been informal in the last century, expanded to include boarding and day schools: before 1725 only four such schools advertised in Boston newspapers; after that more than 25 schoolmistresses promoted themselves. What had begun as an activity for the daughters of the elite became fashionable for the daughters of yeomen and tradesmen as well as the merchant ranks. Here girls learned not only how to read, write, and cypher, but also how to execute increasingly elaborate and expensive embroideries.
Pictorial embroideries created in the Boston area from about 1750 to the early 1790s represent the epitome of a schoolgirl's needlework skills. Worked in crewel wool on a linen canvas and later in silk thread on canvas, they depict—following the English fashion—bucolic scenes of shepherds and shepherdesses, strolling couples, and birds and beasts. The designs were drawn by professionals; teachers likely guided their pupils in the selection of colors and a limited stitch palette.
Hannah Ewell was 16 ("in the Seventeenth year of her age") when she completed a silk-on-linen scene depicting a fashionable couple strolling with their young girl, both females with parasols. The central figures are a piping shepherd and fashionably dressed shepherdess. Completing the scene are a country house, Devon cow, flock of sheep, pond with wading ducks, flowering tree, and a butterfly. Although Hannah did not date her accomplishment, the attire and hairstyle of the shepherdess suggest a date of 1785-95: the striped robe has tight-fitting sleeves; at the neck is a fichu that is puffed up over the bust (called the pouter pigeon effect); the hair is highly frizzed with long curls on either side of the neck; and perched on the hair is a hat with tight crown and large brim.
Although the identity of Hannah Ewell cannot be confirmed, she may be the Hannah Ewell who was born to Gershom and Susanna Ewell in Marshfield, Massachusetts, on April 13, 1769. Gershom was a yeoman farmer who, at his death in 1835, had an estate worth over $4,000. Hannah married Nathan Williamson in November 1790 and died in 1849.
Done in counted split stitch, chain, eyelet, and outline using crinkled silk and silk floss. Wool was used to fashion the ladies' hair.
Brunk Auctions would like to thank textile historian Kathy Staples for her assistance in cataloging this needlework.
Provenance: Private Collection, Arkansas
Condition: fabric edges retain evenly spaced holes used originally to mount fabric for stitching, small pea-sized hole at bottom left corner, some wear to silk at left margin that does not detract from the overall appearance, good color, minor fading to rusty-pink and pink areas (likely due to fugitive dyes rather than sun); frame with wear