Line — Circle ○ Dot ● The Paintings of Gordon Onslow-Ford | September 29, 2023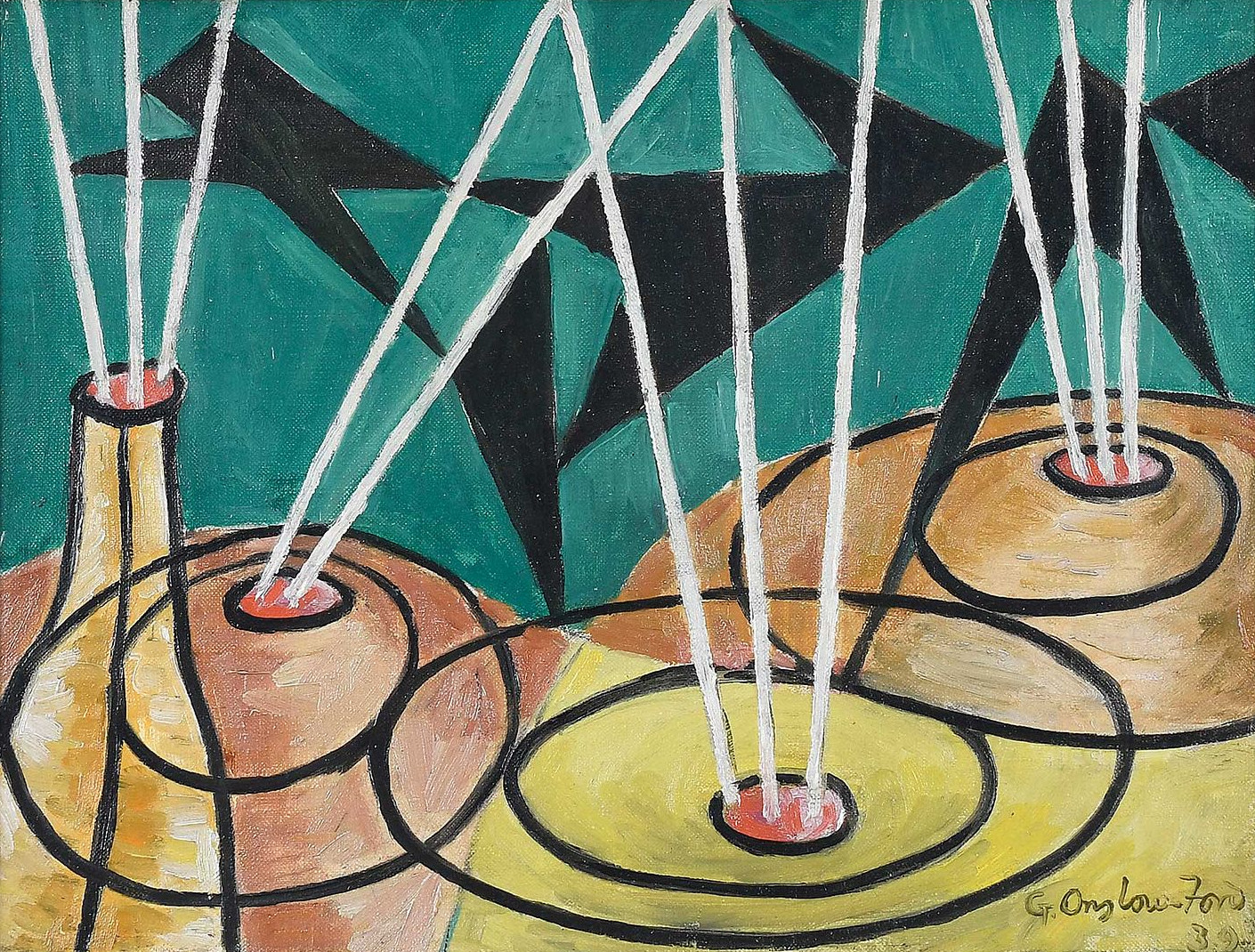 Born in 1912, Gordon Max Onslow-Ford came from an artistic family. By 1937, Onslow-Ford was dedicated to a career as a painter. In the fall of that year, he moved to Paris and rented fellow painter Marie Laurencin's former studio and began studies with André Lhote and Fernand Léger. Those interactions convinced Onslow-Ford to pursue his own artistic interests. It was at that point he met artist Roberto Matta (see lot 171 in our October 20, 2023 Photography | Modern Art + Design Auction). Their lifelong friendship would serve to launch and enrich their art careers. They both read P.D. Ouspensky's book Tertium Organum, which would greatly affect their philosophy of painting in the subsequent years.
After introductions from Salvador Dali, André Breton invited both Onslow-Ford and Matta to join his inner circle of Surrealists and to submit work to the 1938 exhibition, the Salon des Indépendants. Works from this period are considered very rare. As the invading Nazis threatened France, Onslow-Ford's studio was requisitioned for the war effort and many of his early works were strewn about and destroyed.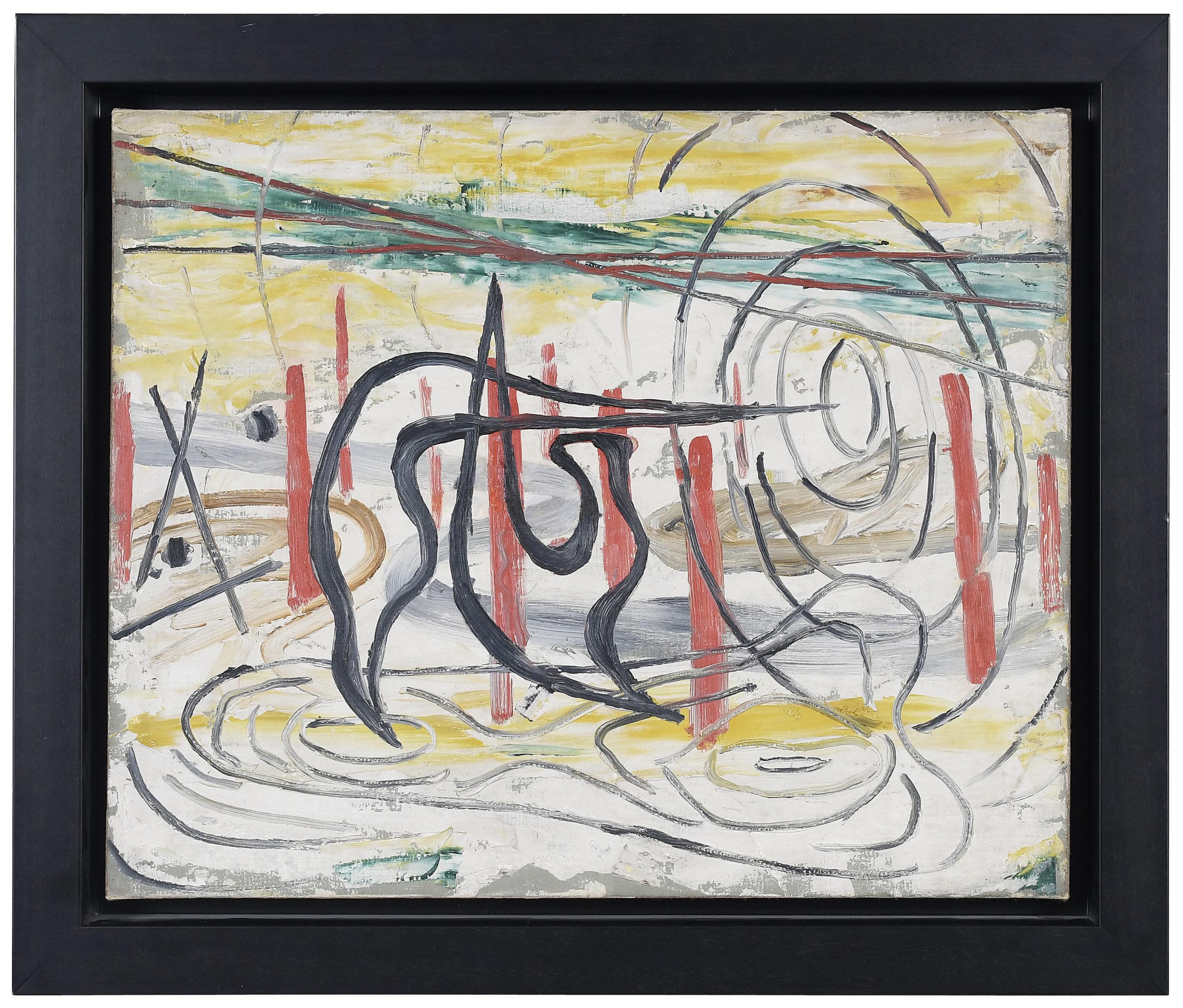 Perhaps the most important contribution Onslow-Ford made was in his move to New York City in 1940, as part of the large exodus of Surrealists and other modern artists fleeing the war. His friend, Kay Sage, with the encouragement of Matta, arranged to have Onslow-Ford officially invited by the Committee for the Preservation of European Culture to lecture on Surrealism in New York City. She worked to get many Surrealists visas through her father, Senator Henry M. Sage. Onslow-Ford curated an exhibition of Surrealist work at the New School for Social Research. These lectures were given at a crucial moment in the lives of American Modern artists such as Robert Motherwell, through whom Onslow-Ford would meet his wife, Jacqueline Johnson, David Hare (see lot 195), Jackson Pollock, Hans Hofmann, Sam Francis, and many others who led the Modern Art movement through the next half of the 20th century.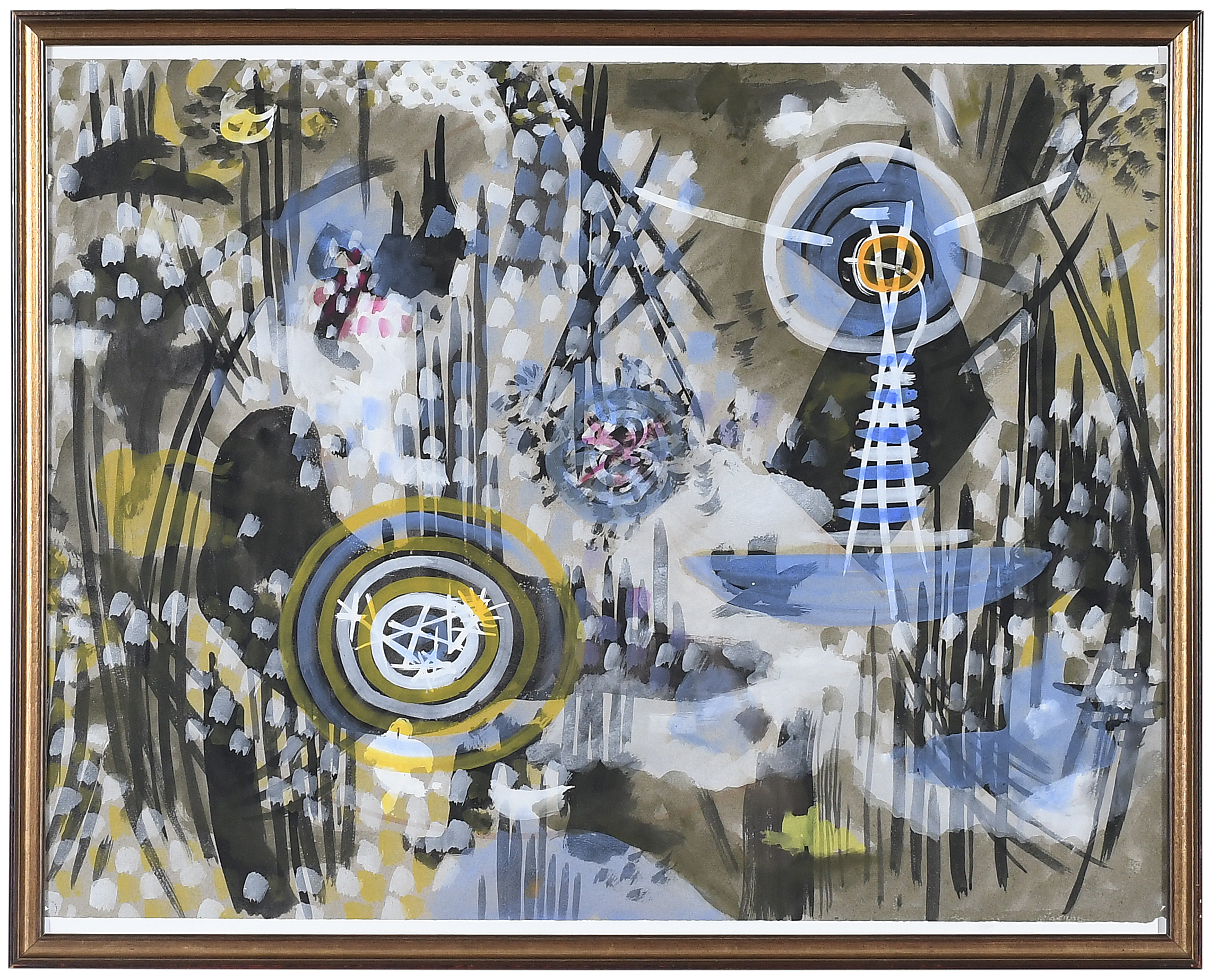 The effect was a turn from the regimented rules of European Surrealism to a new vision that went beyond the illusion of landscape toward a new freedom defined early on through automatism and action painting. In 1939, before coming to the United States, Onslow-Ford developed a new technique of pouring paint on a flat canvas he called coulage. This would influence the later canvases of Jackson Pollock and Hans Hofmann. In 1950, Robert Motherwell expressed in an interview, "Don't underestimate the influence of the Surrealist state of mind on the young American painters in those days or that through them we had our first understanding of automatism as a technique." This was the philosophical shift that would lay the groundwork for the American Abstract Expressionists.
Onslow-Ford himself began moving into a new vision. He stated, "On June 5, 1951, while on a walk overlooking the Pacific Ocean, a dazzling insight came to me; I saw the root of a painting was made up of line – circle – dot elements." This moment defined his art for the rest of his life. In 1958, at Onslow-Ford's request, William C. Parle developed a pigment that could easily be poured without the paints blending. It was called "Parle's paint" and preceded the development of acrylic paint.
Gordon Onslow-Ford's painting began to express an inner realism, born from his vision of an inner world that was more permanent in nature than the outer world and culturally transcendent. These concepts were expounded upon when he studied for many years under the master calligrapher, Venerable Hodo Tobase, wherein he learned the power of line and the technique of a brushstroke. Painting became a spontaneous moment when the unconscious was revealed with a result that gave him great joy.
References:
Bogzaran, F., & Onslow-Ford, G. (2019). Gordon Onslow Ford: A man on a green island. Lucid Art Foundation.
Sawin, M. (1997). Surrealism in exile and the beginning of the New York School. MIT Press. 
Onslow-Ford, G., & Selz, P. (2013). Gordon Onslow Ford: Centennial celebration. Weinstein Gallery. 
Onslow-Ford, G. (1980). Gordon Onslow-Ford: Retrospective exhibition, the Oakland Museum, Great Hall, March 22-May 29, 1977. The Museum.