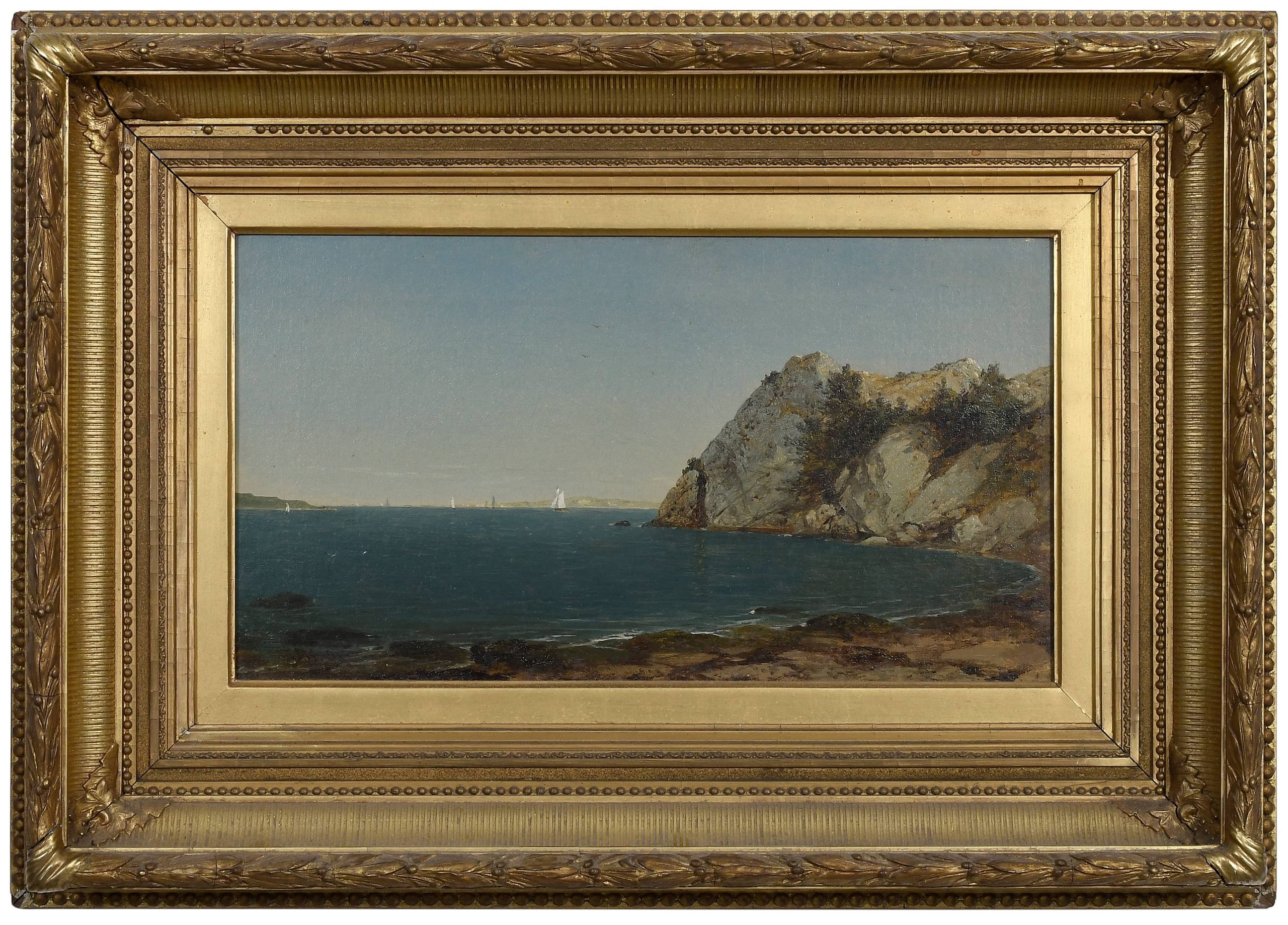 SINGLE OWNER AUCTION – THE ESTATE OF WILLIAM N. BANKS, JR. – NEWNAN, GEORGIA
September 12, 2020 09:00 AM EDT Asheville, North Carolina
Estimate: $250,000 – $350,000
(American, 1816-1872)
Beacon Rock, Newport, 1856, signed and dated with initials lower left "JFK '56", oil on canvas, 10 x 18-1/2 in.; period carved gilt wood and composition frame, 19-1/2 x 27-1/4 in.
Exhibited: 18th and 19th Century Paintings From Private Collections, The Whitney Museum of American Art, New York, June 27th-September 11, 1972, catalog #41 (label verso); Sanford R. Gifford and John F. Kensett, Alexander Gallery, New York, November 3-December 5, 1982.
Newport was one of Kensett's favorite subjects, painting it time and again from the 1850s on, and related paintings hang in many important public institutions such as the Metropolitan Museum of Art and The National Gallery of Art. The Beacon Rock, Newport Harbor in the National Gallery is essentially a larger version of this scene, painted one year later and almost exactly twice as large. The Cummer Museum has a slightly larger version still, painted in 1864. He was still returning to this favorite subject the year he died, when he painted the Beacon Rock in the collection of the Dallas Museum of Art, as well as The Metropolitan Museum of Art's 1872 painting of Newport Rocks, which is a dreamy view almost completely devoid of anything but the the luminist necessities of light and atmosphere.
Provenance: Mr. and Mrs. Maurice Glickman,(label verso) n.d.; Alexander Gallery, New York, NY, December 14, 1982, purchased for $65,000.00 (accompanied by original receipt); The Estate of William N. Banks, Jr., Newnan, Georgia
Condition: canvas lined, crackle; frame with wear commensurate with age, see full condition report by Painting Conservation, Asheville, North Carolina, online – https://brunkauctions.com/condition-report-john-frederick-kensett/