Important Virginia Federal Patriotic Tall Case Clock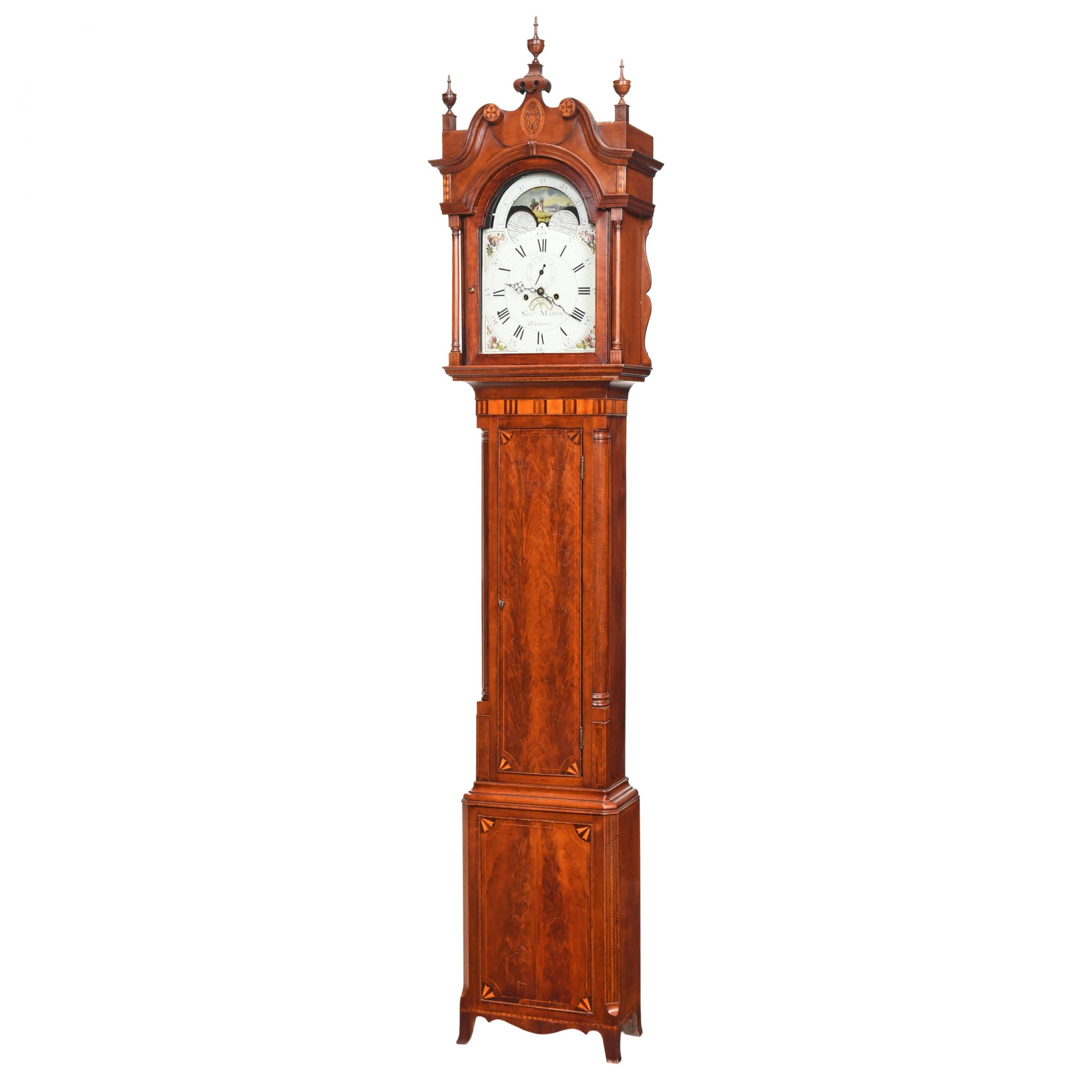 Premier Auction
September 11, 2021 09:00 AM EDT Asheville, North Carolina
Estimate: $30,000 – $40,000
Dial signed "Saml Martin" and "Wheeling" for Samuel Martin (1768-1825) who worked in Wheeling Virginia (now West Virginia) between 1798-1801, the case attributed to John Brown (1761-1835) of Wellsburg and Bethany (West) Virginia, with arched painted dial with moon phase and floral spandrels, set in very fine inlaid and bookmatched veneered waisted case with line and rope inlaid inset quarter columns, highly figured cherry case, central drawer with two highly figured bookmatched veneered panels with quarter fan inlay and rope twist beading, elaborately carved and inlaid hood pagoda form central finial plinth above an eagle inlaid panel flanked by scrolled necks with inlaid rosettes, rope twist inlaid side finial plinths, urn finials, central finial with inlay, with pendulum and two weights, 105-1/2 x 20 x 10 in.
Note: This clock is exceptional not only for the quality of the design and quantity of inlay, but also for the seminal moment that it represents in the convergence of key personalities in the cultural life of Virginia's northwestern frontier. It has an eight-day movement by the previously unknown Virginia clockmaker Samuel Martin (1768-1825), an Ulster-Scot who hailed from Dublin, Ireland, and worked there prior to immigrating to Virginia in 1798. Cabinetmaker John Brown hailed from Celtic forebears who arrived in Maryland at mid-century from the Isle of Man. The pediment he created—with boldly shaped scrolls and an ambitious parapet that projects above them—is among the finest anywhere in that era.
The case is the most ambitious of four examples presently known from Brown's shop, and provides a striking parallel to a closely related clock (Figure 2) with an eight day movement dated "May 4, 1802" and signed by Hugh Andrews (1761 – 1821) of Wellsburg, scarcely 10 miles from Wheeling.[1] The eagle medallion seen in both of the clocks embody the skill of a London-trained Baltimore artisan who sold his work to cabinetmakers as far away as western Virginia, and Kentucky.[2]
The case bears the original movement, made and signed by the Irish-born, Ulster Scot clockmaker, Samuel Martin (1768-1825). In 1795, after completing his obligation as a journeyman in Dublin, he seems to have briefly served as journeyman in that city, and by some point late in 1797, or early '98, departed for America.[6]
As with many Ulster Scots he headed directly to the 'western frontier"—in this case, Wheeling, [now West] Virginia—and on April 18th, 1798, announced to the public that he had opened his doors for business. Because no newspaper existed in Wheeling at the time, Martin sent the notice to the "Herald of Liberty", published 30 miles to the east in flourishing Washington Borough, the court-house seat for Washington County, Pennsylvania.
No other clock survives from Martin's years in Wheeling. When he next advertised on May 5th, 1801, he had moved north and set up shop at 43 Maiden Lane, in New York City. There, in the American Citizen, he offered clocks "of his own manufacture," including "an elegant TIME PIECE, neatly finished, suitable for a Bank, Gentleman's Hall, or any Public Office." He ran the notice again on June 3rd and July 10th.
The clock is accompanied by a detailed write up from Sumpter Priddy Antiques, outlining exceptional documentation and research regarding the clock's history and rarity.
Provenance: Estate of William Gordon Buckner (1934-2016) of Marshall, Missouri. The clock descended in the Buckner family, likely from Henry Buckner (.1730, Caroline County, Virginia, d. Cocke County, Tennessee, 1815).
Condition: very good integrity overall, typical checking to figured veneers, some scattered minor veneer repairs, original feet with some minor chipping at edges, original saddle board (case and works appear to be a good match), finials, plinths, and pagoda molding replaced, scattered minor veneer and inlay repairs.