Fine Tiffany & Co. Tulip and Bamboo Floor Lamp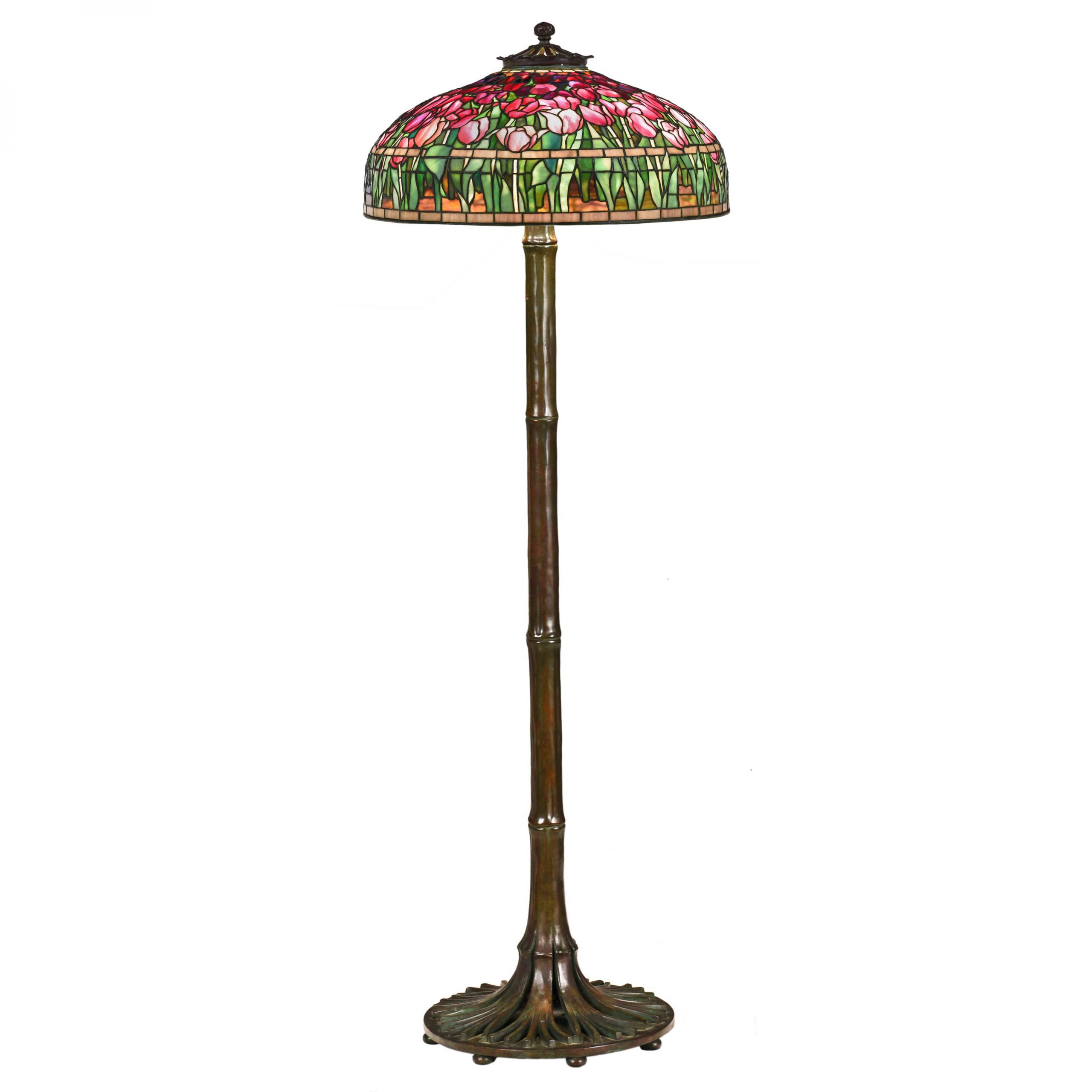 ESTATE OF T. KENNETH AND KARIN ELLIS, HOT SPRINGS, VIRGINIA
June 11, 2021 09:00 AM EDT Asheville, North Carolina
Estimate: $80,000 – $120,000
American, circa 1910, cast patinated bronze bamboo form with six lighted sockets, base stamped "Tiffany Studios New York/7367", with split bamboo finial; dome shaped tulip blossom shade, signed on outer rim, "Tiffany Studios/New York/1548", diameter of shade 22-1/4 in.; overall height 63 in.
Provenance: Estate of T. Kenneth and Karin Ellis, "Stepping Stones", Hot Springs, Virginia
Condition: Appears to be in very fine condition overall. Bamboo base with rich color and intentional verdigris patina, small area of tape/residue near top of bamboo column (see detail photo). Some wear to patination at column from dusting and handling, other scattered very minor wear. The shade is richly colored, the glass elements tight and secure and there are no signs of repairs. There are numerous surface wrinkles, bubbles and folds in the glass, but very few clear cracks were found- perhaps four total, and all are subtle. Some small tesserae appear to be composed of built up small glass layers when viewed from the back, but are flat and consistent when viewed from the front, and present a mottled and dynamic color when lighted (see detailed front and back photos). The unmarked chimney cap has a rich brown patina and fits the shade well. The rim of the cap has some very slight dents. The rim of the shade seats well on the lamp support, but there are three small screw holes at the top of the shade rim, but no conforming holes in the chimney cap. It is possible that the cap is associated, but there is no evidence of any restoration or alteration. The sockets are original and have conforming patination, with early switches. The lamp has been rewired at some point. Overall the lamp is in fine condition presents beautifully, with a great variety of rich colors.