Fine Classical Gilt, Vert, Antique, and Rosewood Caryatid Table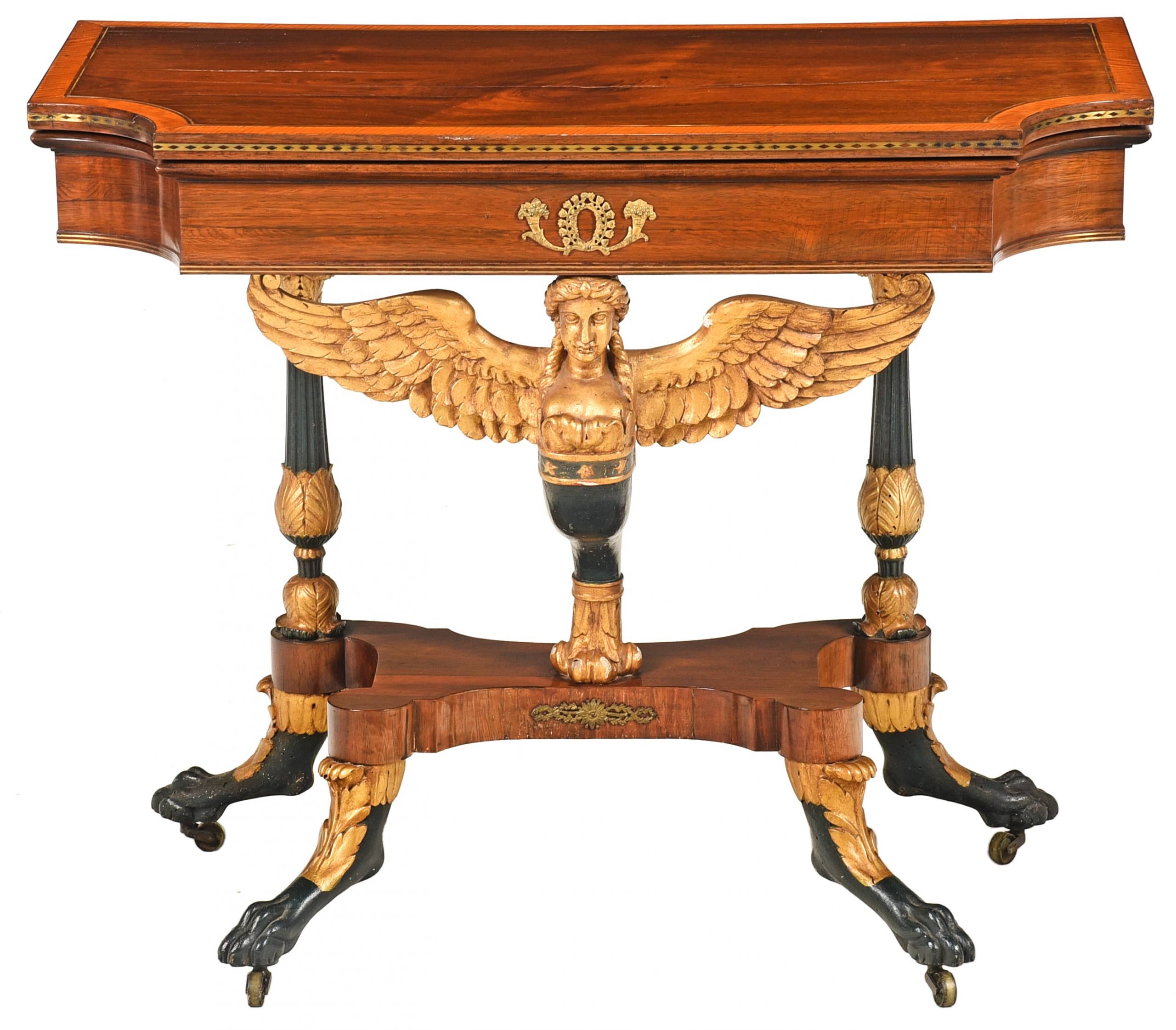 SINGLE OWNER AUCTION – THE ESTATE OF WILLIAM N. BANKS, JR. – NEWNAN, GEORGIA
September 12, 2020 09:00 AM EDT Asheville, North Carolina
Estimate: $40,000 – $60,000
attributed to Duncan Phyfe, 1815-1820, figured rosewood top with brass inlay and satinwood banding, brass inlaid edge, opening to a felt lined playing surface above a gilt bronze mounted and brass inlaid rosewood frieze, carved gilt and vert antique painted caryatid support, back with leaf carved and fluted column supports, on rosewood veneered and bronze mounted base set on carved gilt and vert antique and animal paw feet, with leaf carved knees and brass casters, interior till with early and probably original marbled paper lining, poplar, ash, and white pine secondary, 29-1/4 x 35-3/4 x 18 in.
Note: This rare table is illustrated and discussed in McInnis and Leath, "Beautiful Specimens, Elegant Patterns: New York Furniture for the Charleston Market, 1810-1840" (Chipstone, 1996) p. 149-150. McInnis and Leath note that it is one from a pair that descended in the Ravenel-Frost family. Banks family members recall William purchasing the table from his Cousin, Olive Pringle Brown, who also lived in Newnan. It was said to have come from the Pringle mansion in Charleston. Among Charleston's most prominent families, the Ravenel, Frost and Pringle families, resting a web or connections and of possible histories for this table. It is also illustrated
in Katherine Gross Farnham, "Living with Antiques: The Gordon-Banks House in the Georgia Piedmont," The Magazine Antiques, 102, no. 3 (September 1972): p. 444., and in Fairbanks, American Furniture 1620 to the Present (New York 1981) p. 266.
A closely related pair of caryatid card tables attributed to Phyfe were formerly in the Westervelt-Warner Museum of American Art and the Warner Collection of Gulf States Paper Corporation, Tuscaloosa, Alabama, and were sold at Christie's, New York, September 25, 2013, lot #101 for $255,000. One of these tables is illustrated in Peter Kenny, Duncan Phyfe: Master Cabinetmaker in New York, page 85, figure 95, with an attribution to Duncan Phyfe. However, the present table is distinguished by its expensive rosewood veneers and satinwood banding that are not found on the Westervelt pair.
Provenance: By descent through the Ravenel, Frost, and Pringle families of Charleston, South Carolina. William purchased the table from his cousin Olive Pringle Brown, who lived in Newnan, probably in 1968/1969. The Estate of William N. Banks, Jr., Newnan, Georgia
Condition: Banks family members recall this table being "in the black" when William purchased it. A receipt in William Banks' files records probable conservation work done on this table by Veleba and Hrouban of New York in May 1969, probably around the time of the purchase of the table. The receipt records restorations to gold leaf and brass hardware as well as repairing and refinishing. The table appears to retain some of its original painted surface, however, particularly the back legs and column supports. There is some scattered pest damage to legs and supports with areas of flaking to paint and gilding and surface distress. The ormolu mount to the skirt is apparently a replacement, as there are two unused holes in the skirt. There are veneer cracks to the rosewood top, a break and repair at the tip of one wing, minor sun fading and finish distress to the pedestal base, and fading and distress to the felt playing surface.