Fab Four Specials from May 16-18, 2019 Auction, Featuring Tennessee Estates
Introducing Brunk Auctions' preliminary summer sale featuring institutional deaccessions, private collections and estates from longtime collectors in Tennessee and the greater Southeast
May 12, 2019
Asheville, North Carolina— Join Brunk Auctions for our early summer sale May 16-18, 2019 Premier & Emporium Auction, with over 1700 lots with some distinctly unusual offerings, featured below.  This spring contains an immense R.Lalique art glass collection, a large lifelong collection of horse-sporting-hunting fine art, bronzes, and porcelain, and a dazzling display of diamond jewelry.
1) Large Silver Ingot from Atocha Shipwreck
Nuestra Señora de Atocha left South America bound for Spain with 265 people aboard, along with tons of silver, gold and other precious metals and gemstones. On September 6, 1622 the Atocha sank in a hurricane near the Florida Keys leaving only five survivors. During the rescue, the wreck was marked with hopes of later salvaging the priceless cargo. However, another hurricane came through and relocated the wreckage of the ship and all its bounty. The Spanish government spent nearly 60 years trying to locate the site before finally giving up and the ill-fated Atocha lay undiscovered for another 360 years until it was found by treasure hunter Mel Fisher in 1985. The cargo of the Atocha included one thousand silver ingots that had been mined in upper Peru (now Bolivia). The lot being sold is one of the ingots that went down with the Spanish galleon Atocha nearly 400 years ago.
1621, ingot was recovered from the wreck of the Nuestra Señora de Atocha, top impressed with several marks including silvermaster's mark, Jacove de Vreder, manifest number 691, assayer's bite mark and fineness mark for 2380/2400, tax seal marks, monogram for owner/shipper J. Delgado, underside with Treasure Salvors, Inc. inventory mark "A445/85", 85 troy pounds, 7.20 troy ounces (approximately 70.5 pounds), 3-1/2 x 14 x 5 in.; lot accompanied by certificate of authenticity
Provenance: Property from an Important Tennessee Living Estate
Lot 1289 / Estimate $28,000 – $36,000 / Click here to view
2.) 1973 Jaguar XKE V-12 Convertible
odometer reads 15,557, four speed manual transmission, cream exterior, black interior, later top, after market Pioneer radio, ID# UD1523232, appears to be original interior
Provenance: Estate of Danny Wiginton, Huntsville, Alabama
Lot 1073 / Estimate $30,000-$50,000 / Click here to view
3.) Sir Jacob Epstein (British, 1880-1959)
In 1956, the Blake Society for Poets' Corner in Westminster Abbey commissioned Jacob Epstein to create a portrait of the English poet and artist, William Blake (1757-1827). He worked from as many portraits and sketches as he could find. He was also able to procure photographs of the life masks in England's National Portrait Gallery to create the portrait. When the bronze bicentenary bust was unveiled in Westminster Abbey 24 November 1957, not many of the Blake society attended. It is thought they may not have approved of the rather menacing image, but such was the power of the sculptor to forge strongly emotional sculptures.
In Evelyn Silber's book, The Sculpture of Epstein, the publisher notes, "Jacob Epstein (1880-1959), though born in New York, was the most important British sculptor of the early twentieth century. Henry Moore is one among many who have acknowledged the positive role he played in their careers. Yet few artists have roused such passionate controversy over their work or suffered so many vociferous attacks from public and critics alike: charges ranged from obscenity and barbarism to belated romanticism. As Moore neatly put it, 'He took the brickbats . . . and as far as sculpture in this century is concerned, he took them first.' Epstein was a modern pioneer of direct carving and one of the first to collect and appreciate the function and form of primitive sculpture. However, as the author demonstrates in her introduction to Epstein's artistic career, critical hostility and the lack of public commissions made carving and collecting increasingly private obsessions, while his income and fame rested on portraiture. At a period when his traditional, humanistic approach was being superseded by new philosophies and new material, Epstein came to be regarded as one of the few sculptors capable of creating a portrait which was far more than a mere likeness."
Monument to William Blake (S. 498), 1956, edition of 3 including the plaster, signed on back of proper right shoulder "Epstein", patinated bronze, 21-1/2 in.
Provenance: Ex-collection Mr. Edward P. Schinman; Private North Carolina Collection; From the Collection of Salem Academy and College, Winston-Salem, North Carolina
Lot 1210 / Estimate $10,000 – $15,000 / Click here to view
4.) Imperial Kesi Slit Tapestry Dragon Robe
Although uniform in perhaps function, robes like this Imperial Kesi Tapestry Dragon Robe revealed rank of the man or woman who wore it, discerned by color, symbols, and animals contained, and were highly individualized.  Dress for first-level consort or imperial government (not ritual or ceremonial functions), imperial robes of this kind are not only rare to find (because of their importance and formal use) but also unusual when tapestry woven with metal wrapping (kesi), not to mention each is one of a kind.  The generous stylistic dedication to five-clawed dragons (long) playing with pearls suggests this was assigned to a male family member.  With a hare stirring the elixir of life on one shoulder (moon), and a two-legged cockerel on the other (sun) these are two (amongst twelve) common prominent symbols of authority.  Worn for circumstances celebrating the power and authority of Qing government, the symbols seen here align with the occasion: frontal and side-facing dragons surrounded by flying bats carrying wan emblems amongst shòu characters for longevity.  To the hem of the robe, lishui, or standing water, dense stripes with fish amidst wave forms beneath their flying counterparts "establish orderly and astronomical balance" amongst elements.  Most likely dated to late 19th century due to the purple hue found in the lishui border, imagery of mountains, constellations, and sacrificial cups can also be discovered amongst the clouds.  Dragon robes are demonstrative of complex social structures and personal values made visible in a multi-faceted and highly technological fashion over centuries.  
late Qing dynasty, imperial yellow silk tapestry woven in gold thread with 12 dragons, clouds, bats and other symbols over lishui border, brocaded silk lining, 52 in. length; lot accompanied with copy of 1980 receipt from Vallin Galleries, Wilton, Connecticut, reads "Twelve Symbol Imperial Consort's Robe, late 19th century" and indicates a price of $2500
Provenance: Vallin Galleries, Wilton, Connecticut; Private Collection, North Carolina
Lot 820 / Estimate $6,000 – $9,000 / Click here to view
Please view upcoming highlights across other categories:
Art Nouveau 14kt. Gold and Ceylon Sapphire Ring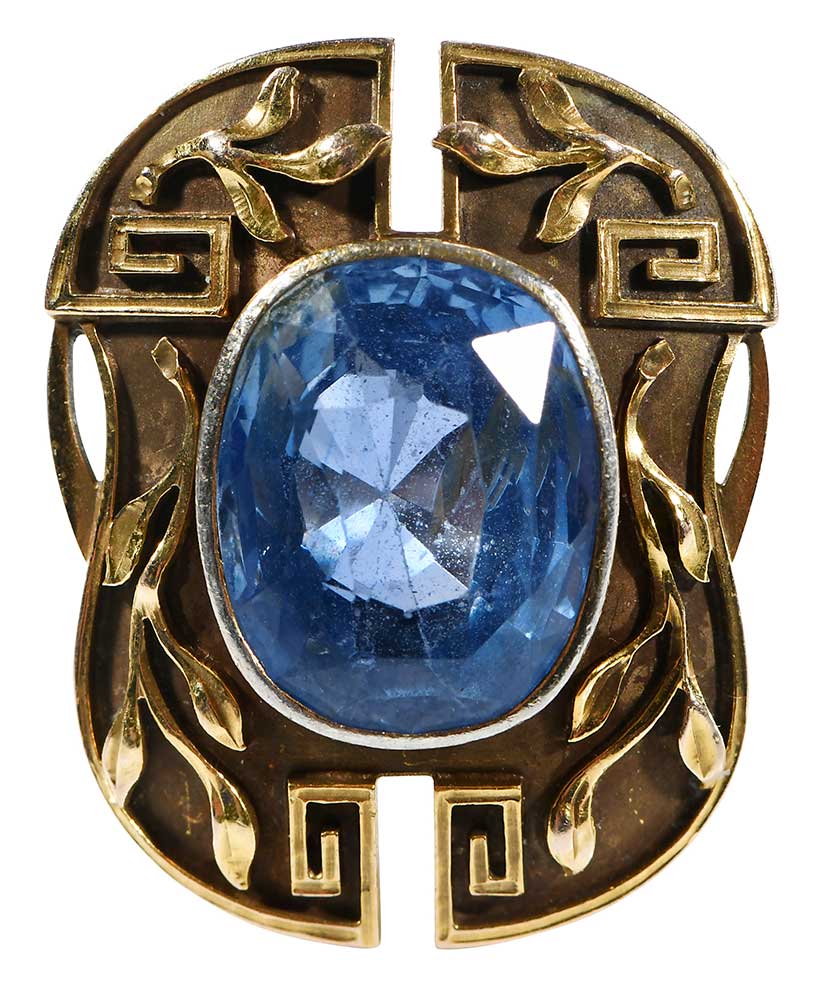 Iconic and remarkable in beauty, Ceylon sapphires are treasured by many notables, including Princess Diana, whose engagement ring was set with one. Center cushion cut blue sapphire estimated weight 10.0cts., AGL report 1099813, Ceylon origin
Provenance: Private Collection, Asheville, NC
Lot 1398 / Estimate $8,000 – $12,000 /Click here to view
Fine American Chippendale Walnut Dressing Table
Lancaster/Chester County, Pennsylvania, circa 1770, highly figured walnut, dovetailed drawers, poplar and white cedar secondary, finely carved shell drawer, scalloped skirt and knees, 29-3/4 x 34-3/4 x 19-3/4 in.
Provenance: Miss Adaline Sinnickson; Pook & Pook, September 20, 2003, lot 255; Property from an Important South Carolina Estate
Lot 1629 / Estimate $25,000 – $35,000 / Click here to view
Lalique Serpent Amber Glass Vase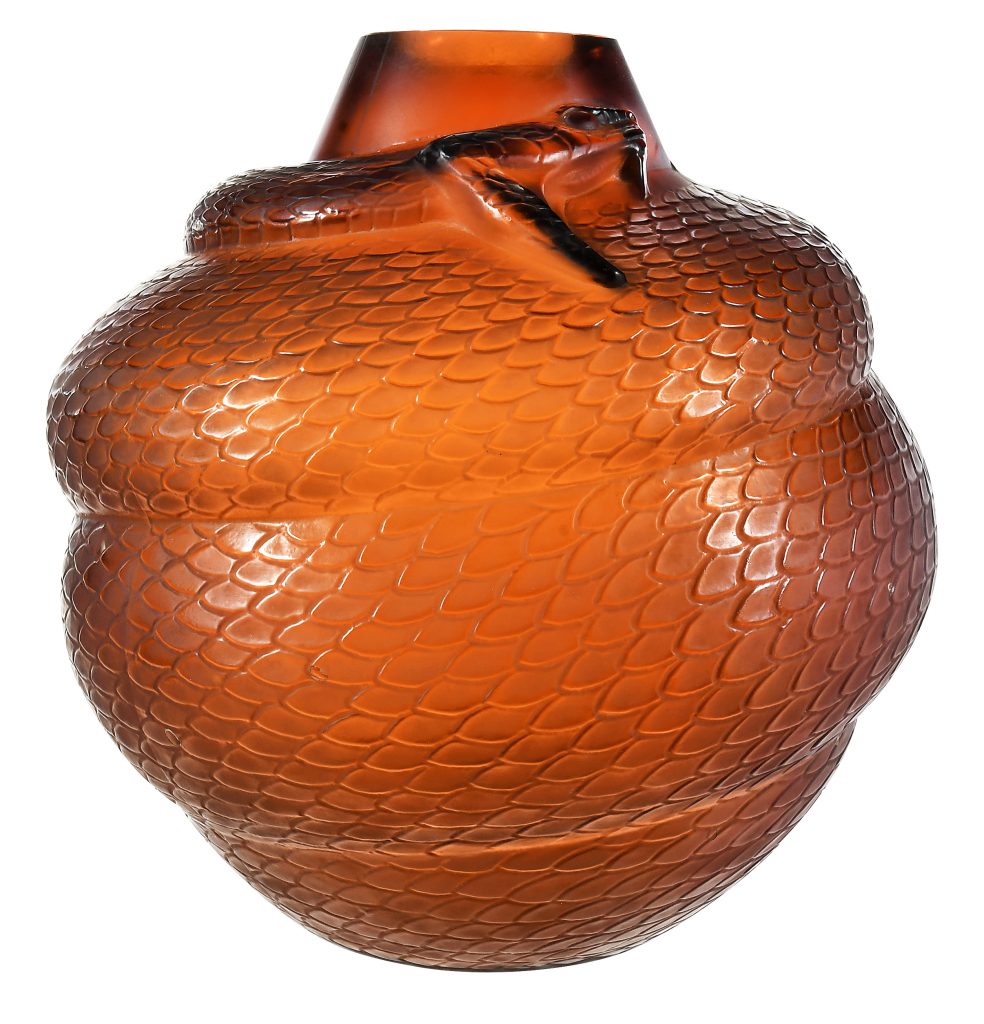 introduced 1924, model number 896, molded "R.LALIQUE", 9-3/4 in.
Provenance: Dr. Phillip George Estate, Memphis, Tennessee
Lot 1124 / Estimate $15,000 – $20,000 / Click here to view
Alice Ravenel Huger Smith (Charleston, South Carolina, 1876-1958)
Moonrise over the Marsh, signed lower right "Alice R H Smith", watercolor on paper, 22 x 13 in.; framed, 30 x 20-1/2 in.
Provenance: From the family; By descent to Sarah Harleston Huger of Richmond Plantation;  By descent to Nancy Brocklehurs; By descent to the present owner
Lot 1728 / Estimate $15,000 – $20,000 / Click here to view
Please see lots 1729, 1730, 1731 for more Alice Ravenel Huger Smith
Rare George Hendel Coin Silver Tea Service
Carlisle, Pennsylvania, c. 1800, urn forms with bead borders, bird head spout, wooden handles, "W" monograms on body and base of coffee pot, marks for George Hendel (working 1802-1840), 79.43 oz. T., 14 in. coffee pot with matching teapot and creamer and lidded urn
Provenance: Pook & Pook, Inc., Downingtown Pennsylvania, April 24, 2009, lot 163; Property from an Important South Carolina Estate
Hollowware by George Handel is extremely rare. There is only one other tea service known and it is located in the collection of the Cumberland County Historical Society.
Lot 1659 / Estimate $30,000 – $50,000 / Click here to view
+++++
Featured Estates:
Property from a Southern Institution
Collection of Dr. and Mrs. Joseph R. Gabriels
An Important Southern Collection
Estate of Mr. and Mrs. Eugene Fleischer
Property from an Important Private South Carolina Estate
By Descent in the family of Governor Manning, South Carolina
Private Collection, Highlands, North Carolina
Collection of Clint Paul and Lois B. Herring, Post, Texas
Private Collection, Williamsburg, Virginia
Collection of Marion and Theodore Gore, Williamsburg, Virginia
Private Southern Collection
Colonial Williamsburg Foundation, Proceeds to Benefit the Acquisitions Fund
Estate of Alice Carter Middendorf
Private Collection, Winston-Salem, North Carolina
Private Collection, Charlotte, Vermont
Estate of Dr. Phillip George, Memphis, Tennessee
Private Collection, Wilmington, North Carolina
From the Collection of Salem Academy and College,
Winston-Salem, North Carolina
Historic Bremo Plantation, Bremo, Virginia
Private Collection, Cary, North Carolina
Private Collection, Nashville, Tennessee
Private New England Collection
Property from a Southern Institution
Property from the Estate of Dr. Colleen Conway-Welch
Willard R. Sparks Estate, Memphis, Tennessee
Private Collection, Fearrington, North Carolina
Collection of James B. MacNeill, North Carolina
World Class Consignments and Exceptional Results– Founded in 1983
For more information visit BrunkAuctions.com
Please join us live in the showroom, or online.  
+++++
Data adapted from John Vollmer of Christie's Asian Department and Empresses of China's Forbidden City, 1644-1912 edited by Daisy Yiyou Wang and Jan Stuart (2018).  Thank you.