Collection of Jean and Jim Barrow Post Sale Press Release | May 20, 2023
May 20th was cause for much celebration at Brunk Auctions. Already celebrating 40 years in business, the single owner auction of the Collection of Jean and Jim Barrow on Saturday topped every other sale in the company's 40 year history. The renowned private collection of museum quality Modern art, Federal furniture, early maps, decorative arts, and rare decoys brought spirited bidding in all categories and across all platforms. The modern art on offer was a veritable who's who, and included works by Andy Warhol, Jasper Johns, Jim Dine, Josef Albers, Roy Lichtenstein, and Damien Hirst.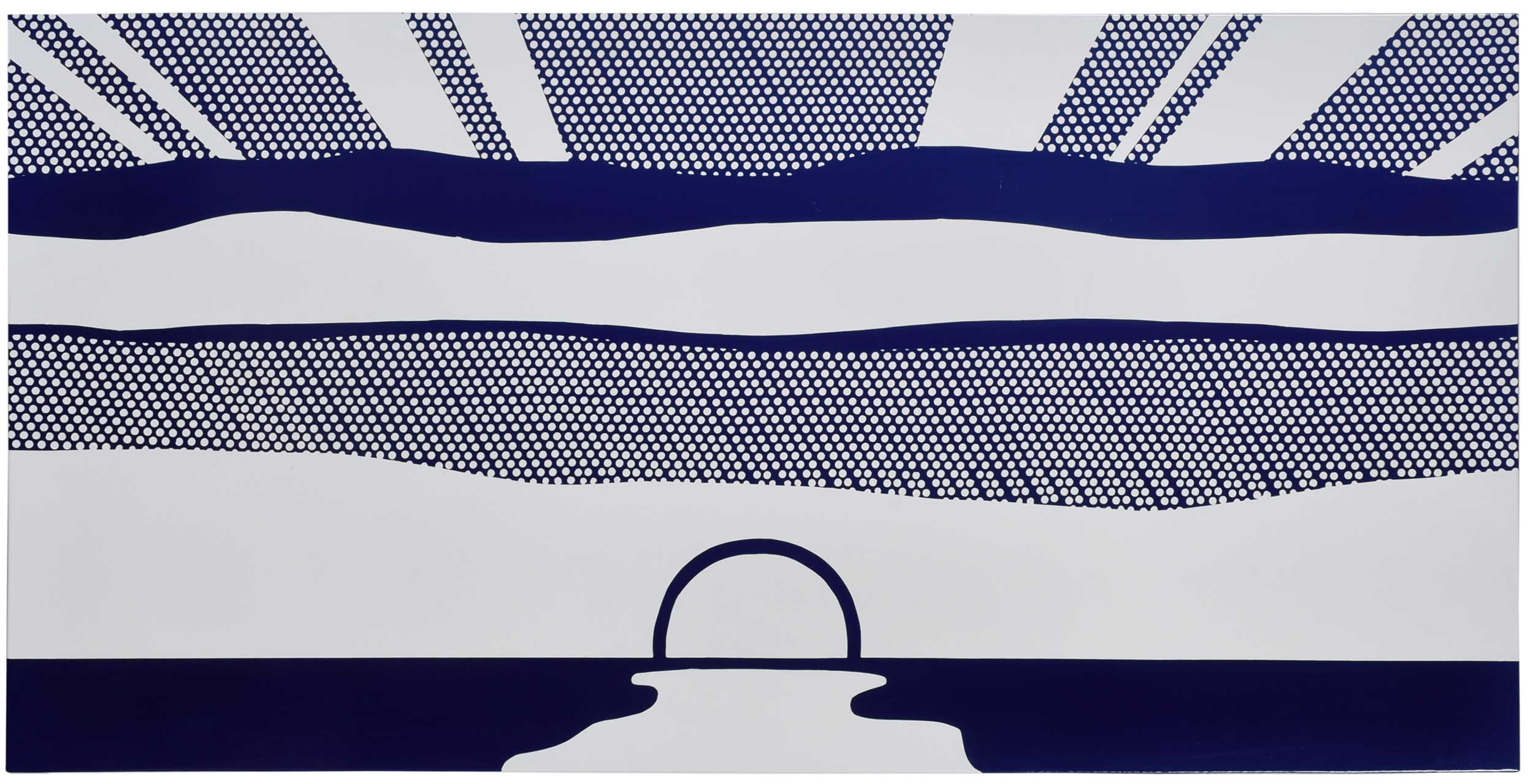 Lot 187
ROY LICHTENSTEIN
$479,700
Bidders from numerous countries competed for these quintessential examples, and at the end of the day, the 353 lots sold for a total of $7,408,835.00. There was tremendous energy in the saleroom, and some top lots were bought or underbid by live bidders in the room. The top Fine Art lot of the day was the Roy Lichtenstein Setting Sun and Sea, Lot 187, which brought a total of $479,700.00. Kenneth Noland's 1966 shaped canvas Greenbriar; lot 100, brought $381,300.00; and two lots later Robert Indiana's iconic LOVE blue and red sculpture hammered down to a happy private collector in France for $307,500.00. The market had been untested by this quality of Federal furniture in a decade or more, and it brought a great many collectors out of "retirement". The top two furniture lots surpassed the prices paid for them in New York and Boston in the height of the market, and every furniture lot offered found a new home. Lot 179, a rare and important Boston Federal pedimented tambour desk, the only example of the three known that was in private hands, sold to a bidder in the room for $258,300.00, far surpassing the pre-sale estimate of $60,000-90,000. Top lots in other categories include lot 114, the rare Simon Willard painted lighthouse clock, circa 1818-1819, which sold to a phone bidder for $282,900.00. The 1775 Henry Mouzon map of North and South Carolina, lot 94, went for a record price of $98,400.00 to a private bidder; and lot 59, the very rare Caines Brothers mallard drake decoy sold to a dealer in the saleroom for $104,550.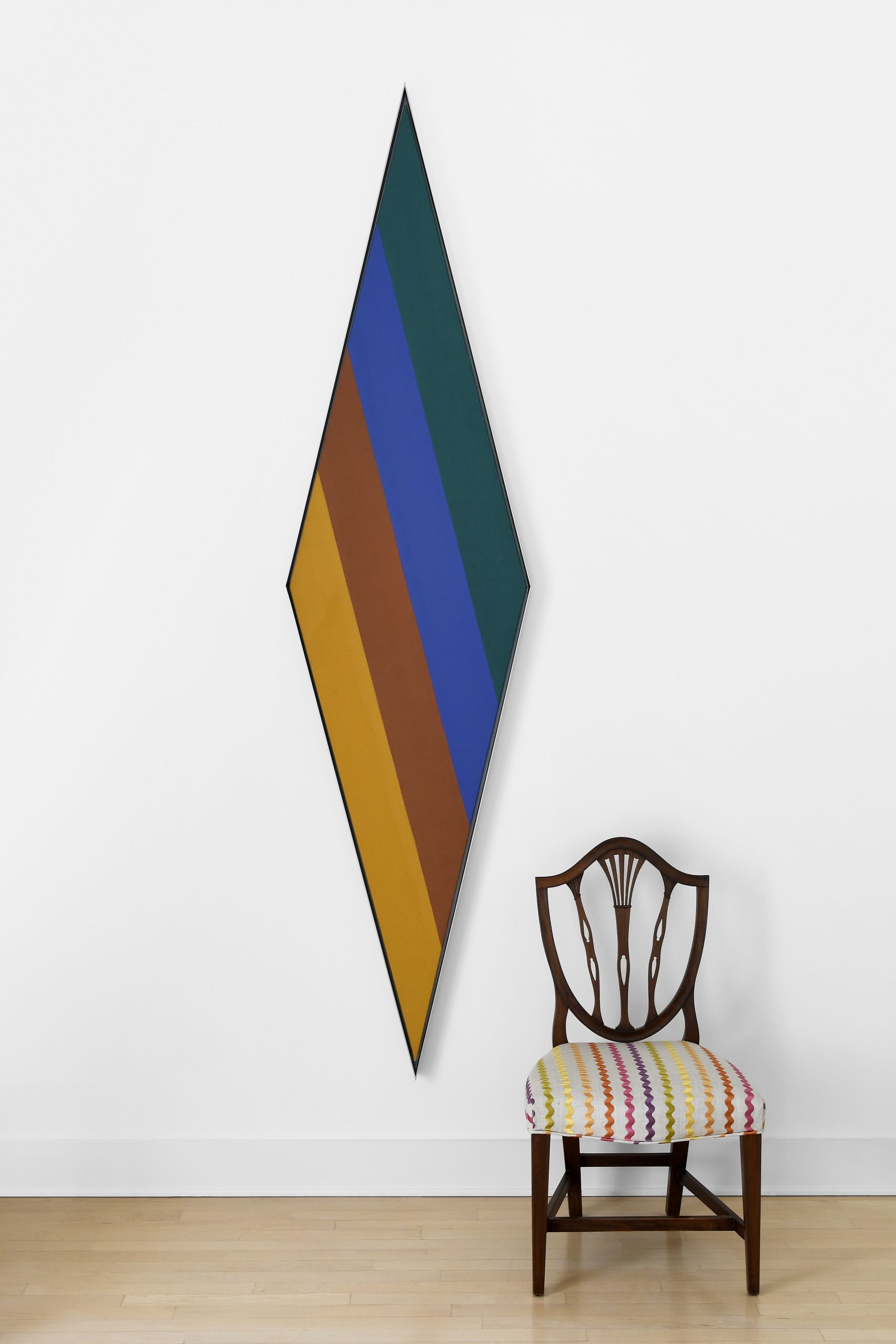 Lot 100
KENNETH NOLAND
$381,300
Other prices of note achieved during the Saturday sale included $147,600 for lot 44, the Mahantango Valley attributed polychrome chest of drawers; The highest price achieved for a map was $246,000.00, for lot 143, the 1486 Ulm Ptolemaic map of the world, which hammered down to the trade amidst much applause. A short time later lot 155, an engraved James I silver wine cup, sold to a British dealer for $46,740.00.

Lot 114
A VERY RARE BOSTON FEDERAL SIMON WILLARD PAINT DECORATED LIGHTHOUSE CLOCK
$282,900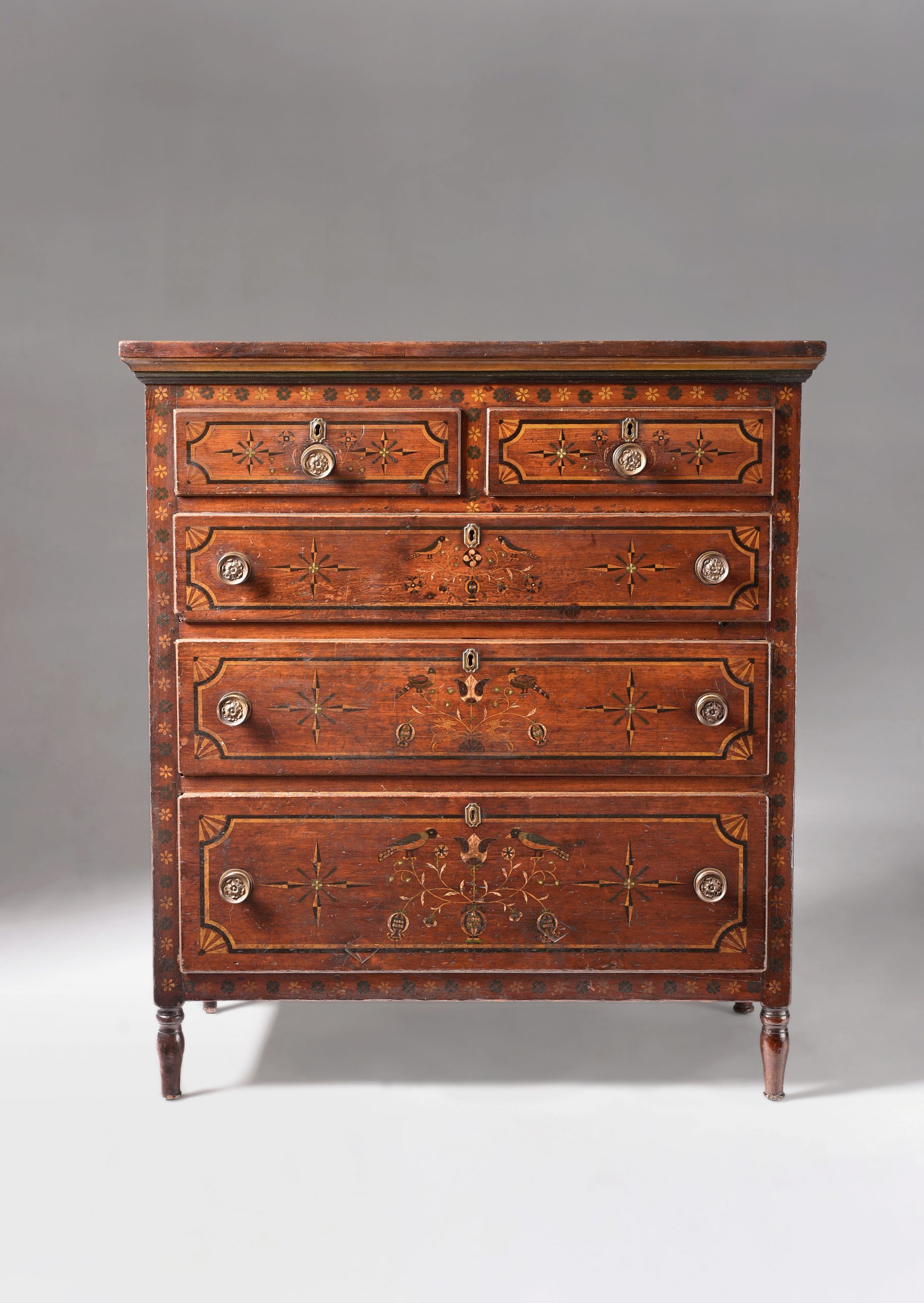 Lot 44
VERY RARE AND IMPORTANT PENNSYLVANIA FEDERAL POLYCHROMED CHEST OF DRAWERS
$147,600
The Day before the Barrow Auction, Brunk held their May Premier auction, highlights of which included the stunning dyed and tooled work on leather by Winfred Rembert,
The Laughing Barrel
, lot 685, which fetched $258,300.00; and lot 702, a rare Engraved Glass Presentation Tumbler, attributed to John Frederick Amelung, circa 1788-1792, engraved "Washington", which sold for $135,300.00 to George Washington's Mt. Vernon.
All told, approximately 2,400 bidders from 29 countries competed in person, online, and on the phones. The two auctions totaled nearly $9.4 million, with a sell through rate of 95%.