SEPTEMBER 29, 2020
…October 2nd and 3rd, an auction of a fabulous collection of historical needlework is available online, and I want you to know about it. You might not be able to participate, but you can certainly take a peek at the items being auctioned and perhaps glean a bit of inspiration for your own pursuits.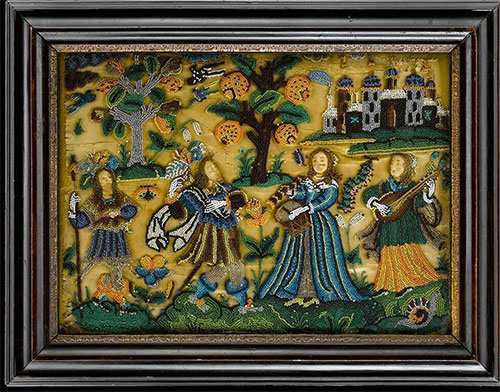 Brunk Auctions is featuring this lot of historical needlework pieces from the property collection of Dudley and Constance Godfrey.
Many beautiful pieces of crewel work, raised work, goldwork, and bead embroidery – and some schoolgirl samplers, and a lovely piece of paper scroll work – are part of this auction lot.
The 17th century bead embroidery pieces are fascinating! This one in particular catches my eye – I love it! I keep going back to it and looking at it.
(Oh, don't worry. I can't bid on it. If I could, I would, but it is well beyond my reach. If you can, I think it is a piece that will surely delight you!)
As you begin looking at a piece like this, you get an overall impression of the story it relates. It's the story of Jephte the Galaadite and his daughter, from Judges 11 in the Old Testament.
It's when you start to study it closely that you see what I think of as fantastic and fun details, despite the nature of the story itself. I like to think that the embroiderer who made it really enjoyed doing so.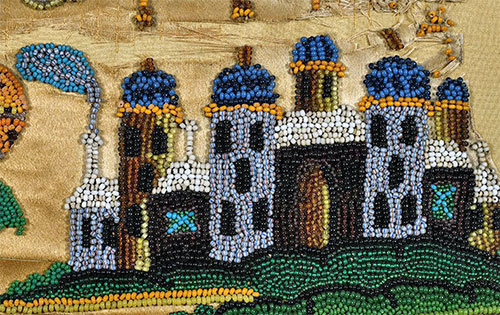 The castle is not necessarily biblical, which is typical of art depicting biblical subjects. The art tends to depict the story, but the details that adorn the story are often a little more contemporary to the artist.
I'm quite taken by what I think must be very charming chimney smoke on the left. If I were drawing that, it's pretty much what my chimney smoke would look like, too.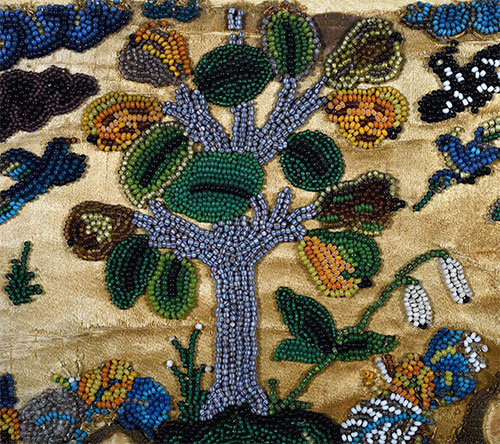 Fruit trees and out-of-all-proportion birds and bugs often adorn 17th century embroidery.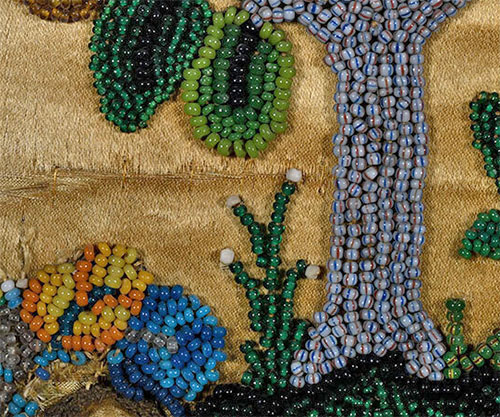 Check out those striped beads!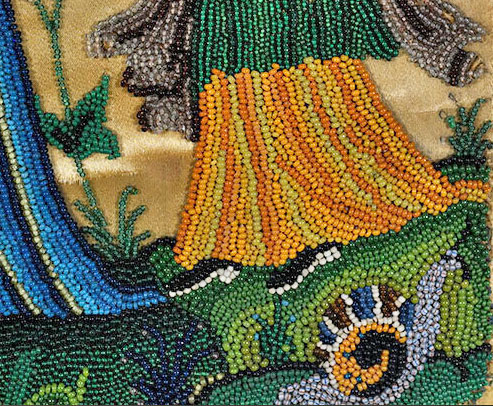 And who doesn't love a snail in the garden? (Even one big enough to eat you, if so inclined.)
In any case, take a look at the offerings for this auction! It's a terrific opportunity if you are a collector. And even if you're not, it is a wonderful opportunity to browse through the photos of the pieces on offer. You can enlarge them to see the details.