Exclusive Online Sale and Auction to Debut on Bidsquare from December 1st – 10th
(NEW YORK, NY,  December 1, 2020) – Esteemed Fine Jewelry Designer, Mish Tworkowski, has announced an exclusive online charity fundraiser and auction to benefit Nashville's Cheekwood Estate & Gardens. The sale will open from December 1st – 10th on the leading platform for online auctions, Bidsquare, with an offering of 28 extraordinary one-of-a-kind and limited-edition Mish creations. A generous portion of the proceeds will benefit the historic museum and botanical gardens in Tennessee. Simultaneously, an iconic brooch from the jeweler's collection will be auctioned off with 100% of the proceeds going to the non-profit educational institution.  Mish has a long-standing relationship with the museum and gardens as an avid patron of the Swan Ball, one of the premier charity events in the United States that benefits Cheekwood.
"The Swan Ball and Cheekwood Estate & Gardens have benefited from the generosity of fine jewelry designer Mish Tworkowski for many years. He is an avid supporter of the arts and has been a Swan Ball Jeweler as well as an underwriter of the Antiques & Gardens Show, which also benefits Cheekwood.  We are grateful to present his extraordinary collection in this upcoming online benefit," says Mary Catherine McClellan, Co-Chair of the 2021 Swan Ball. Added her Co-Chair Janette Smith:  "We are so thankful that Mish is willing to support us in such a generous way and on a national scale at a time when most charities are struggling with how to continue to thrive amidst a global pandemic."
The Swan Ball auction team and Mish consulted with the prominent Fine Art Auction House, Brunk Auctions, in developing this unique online charity benefit. "This collaboration is a silver lining that has emerged as we all try and pivot to new ways of doing business and serving our communities," says Lauren Brunk, Senior Vice President at Brunk Auctions. "The organizers of the Swan Ball, Mish, and Brunk Auctions have come together with a generosity of spirit and determination to support the Cheekwood museum and gardens. We bring our different areas of expertise to the table and everyone benefits."
Twenty-eight one-of-a-kind and limited-edition creations have been assembled for this exclusive online charity fundraiser. Each represents Mish's incredible designs and workmanship, and this collection is a reflection of his personal passion for gardens and his enthusiasm for color.  Mish's deep knowledge of flora inspire meticulously detailed botanical designs, many of which will be featured in this sale.  On offer will be a pair of "Poppy" earclips in 18k gold with diamond pavé centers and a bracelet featuring multi-colored baroque South Sea, Tahitian and freshwater cultured pearls with an 18k gold reversible poppy clasp with diamond pavé.
Other highlights include a one-of-a-kind "Raceway" necklace featuring approximately 7.65 carats of diamonds and two "Raceway" bracelets, one featuring 162 carats of specialty-cut white topaz baguettes mounted in 18k white gold set with approximately 9.1 carats of pavé diamonds and the other set with 156 carats of blue topaz reminiscent of a clear blue sky. Limited-edition pieces from the designer's new Strawberry Flower collection will also be among the offering. Lifelike in design, every flower petal features intricate engravings that replicate the beautiful details of a strawberry flower in 18k yellow gold, each set with a pavé diamond at its center.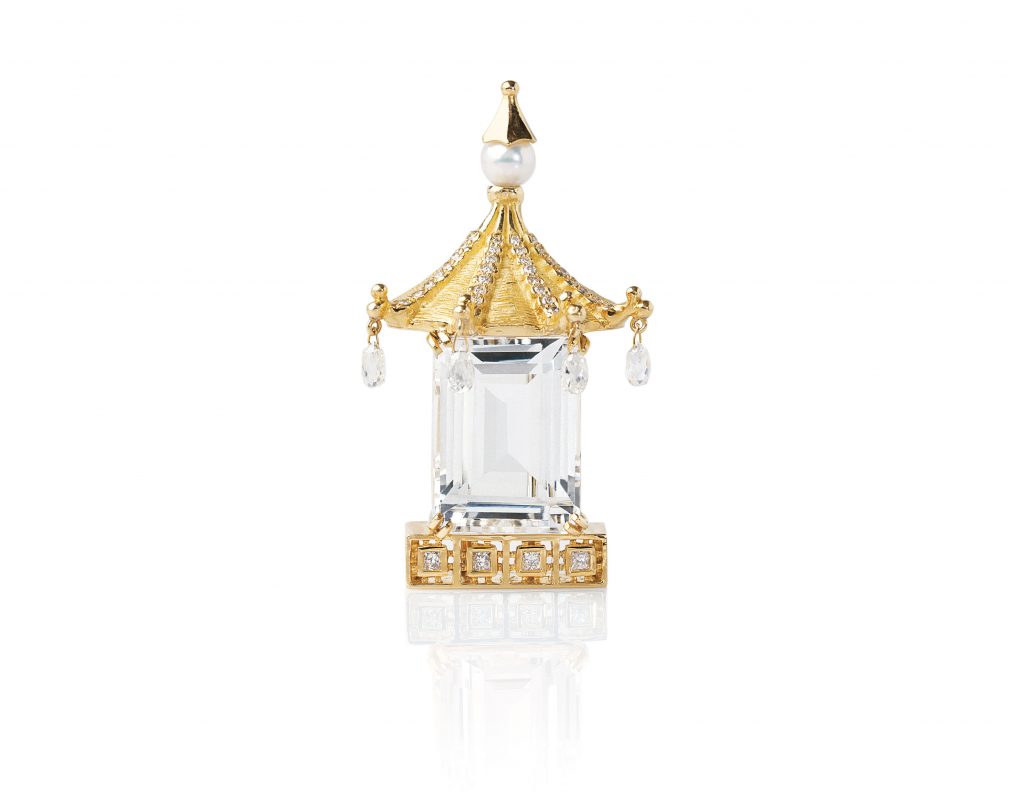 An iconic creation from Mish will simultaneously be up for auction during the sale.  An avid horticulturalist, Mish specially selected his Chinoiserie Pagoda Brooch featuring a 56.5 carat white topaz center stone mounted in 18k gold with over 2.5 carats of princess-cut diamonds, diamond briolettes, pavé diamonds and a white cultured South Sea pearl to be highlighted during this benefit. 100% of proceeds will go to Cheekwood Estate & Gardens.
"I am delighted to present a very special collection of jewelry to benefit Cheekwood Estate & Gardens and help in their mission to preserve Cheekwood as a historical landmark where beauty and excellence in art and horticulture stimulate the mind and nurture the spirit," said Mish Tworkowski, founder and designer of his eponymous brand.  "As a long-time supporter of the Swan Ball, which benefits Cheekwood, I have grown to know so many wonderful people in Nashville, Tennessee, and it is truly an honor and a privilege for me to give back and support the amazing work they do for this historic institution."
Please visit https://www.bidsquare.com from December 1st – December 10th to learn more and support Cheekwood Estate & Gardens.  Direct access can be found in the links below:
Auction:  https://www.bidsquare.com/auctions/cheekwood-estate-gardens/mish-fine-jewelry-pagoda-brooch-auction-to-benefit-cheekwood-estate-gardens-6104
Charity Sale:  https://www.bidsquare.com/auctions/cheekwood-estate-gardens/cheekwood-estate-garden-presents-a-special-collection-of-mish-fine-jewelry-5978
About Mish
Mish Tworkowski, nationally acclaimed jewelry designer of his eponymous New York City based company, is widely regarded as one of the US's most talented and exciting fine jewelry designers. His love of gardening and the natural world has inspired the whimsical design of Mish's iconic jewelry pieces. Flowers from his Upstate New York garden, tree bark found on frequent trail hikes in Colorado or sea life from beach walks near his Florida home often become beautiful jewel-encrusted necklaces, bracelets and earrings. Mish's personal style has been celebrated by the press as well. His shops, apartments and country houses have graced the pages of home magazines such as Architectural Digest, Elle Décor, and Veranda. His dandy, custom-tailored dressing has placed him on the International Best Dressed List and the acknowledgment of his gifted design ability has resulted in his induction into the prestigious Council of Fashion Designers of America. 
About Cheekwood Estate & Gardens
Cheekwood is a 55-acre botanical garden and art museum located on the historic Cheek estate. Originally built as the home of Leslie and Mabel Cheek in 1929, Cheekwood is one of the finest examples of an American Country Place Era estate. Since being converted into a museum of art and botanical garden in 1960, Cheekwood has presented world-class art exhibitions, spectacular gardens and an historic estate unlike anything else. Each year, Cheekwood welcomes over 225,000 visitors, making it one of the city's top cultural attractions, with approximately 14,000 member households.  Visitors enjoy family activities, programming for all ages and year-round festivals celebrating the four seasons. From 150,000 blooming bulbs in the spring to one mile of holiday lights in the winter, there's always something to see at Cheekwood.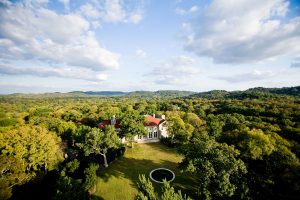 About The Swan Ball
The Swan Ball, one of the premier charity events in the United States and established in 1963, is a white tie gala benefiting Cheekwood that is attended by prominent southeastern, national and international guests.
About Brunk Auctions
Based in Asheville North Carolina, Brunk Auctions is one of the nation's leading auction houses. Founded over 35 years ago by Robert Brunk, there continues to be emphasis on transparency, scholarship and customer service. Andrew Brunk took leadership of the company 15 years ago and has achieved significant growth and recognition in the field. Both Andrew and his wife Lauren are active as specialists and auctioneers. Along with their seasoned staff of specialists and customer service team, they have decades of experience and training at international auction houses, museums and in the trade. They maintain a full calendar of auctions for fine art, decorative arts, jewelry and coins, Asian art and other categories.  Brunk Auctions is dedicated to working with arts institutions as they either grow or refine their collections, with private collectors, estates and appraisers.